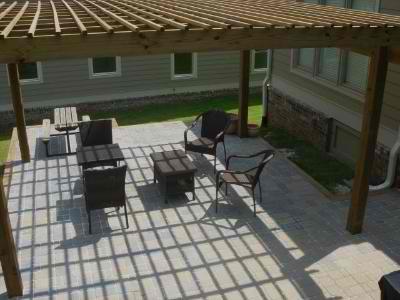 The word hardscape in itself communicates strength and durability.  The hardscape is a strong choice in more ways than one. Not only is a professionally installed hardscape strong enough to drive a car on it, our hardscapes are built to withstand various and changing soil conditions as well as the effects of the elements. Requiring little to to maintenance, the pergola is a very strong choice for your outdoor living space.
This project in the Providence community in Macon GA is one example of the impact a quality hardscape can have on your backyard. The project includes a paver patio covered by a pergola. A deck would not have worked in this yard and because the homeowners wanted the least possible maintenance.  Hardscapes, in general require even less maintainance than composites or PVC.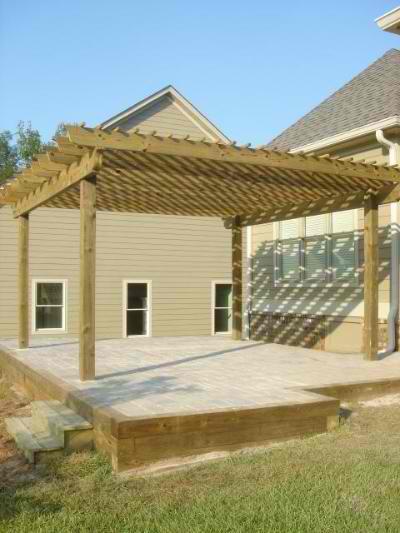 Building a home-made paver patio is generally not a good idea. Individual soil conditions vary greatly from yard to yard, Almost all home-made patios will inevitably move, sink, bulge and/or crack.  A professionally designed and built hardscape patio from Archadeck of Central Georgia is made to last. We dig down 4-6″  deep, apply a 4-6″ base of aggregate and make sure it is properly compacted before we even begin laying the pavers.
We use Belgard hardscaping materials almost exclusively. Belgard is a top quality hardscape that has a long history of successful applications on thousands of residential and commercial projects. Commonly used applications of Belgard hardscape materials include driveways, walkways and paver patios.
Using pavers allows a lot of design flexibility. We specialize in patterns, border-colors and multi-color designs. We can even incorporate a pathway to the driveway, garden area, or front of your house that matches and works in unison with the paver selection you choose.
The Belgard line has tremendous range in shapes, sizes and colors but right now earth tones and neutrals are popular. Earth tones are often highlighted with grays, blues and reds. The Cambridge cobble is a very popular color here in the Macon/Warner Robins and surrounding area. The Holland line is also popular and has a more traditional feel and style. Belgard also offers a line of outdoor fireplaces, fire pits and outdoor kitchens.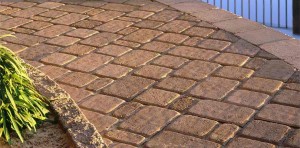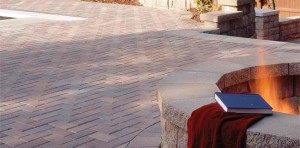 If  a paver patio is something you are planning in the near future, now is the perfect season to start. It is the best time of the year to build due to the heavy equipment used when constructing a paver patio. Spring is the optimum time for the turf to recover from stress, whereas other seasons make it less resilient due to weather and temperature conditions.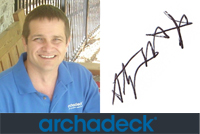 Contact Archadeck of Central Georgia to learn more about our strong and beautiful patio and hardscape designs today. Call for a free consultation: (478) 745 – 2000
centralgeorgia@archadeck.net