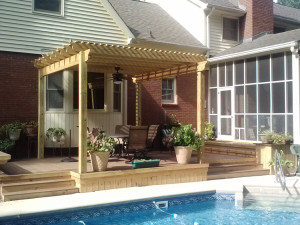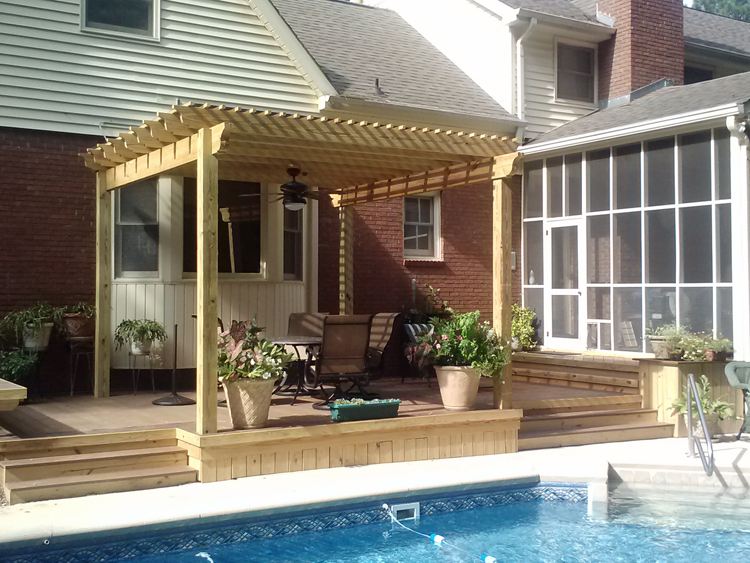 Take a look at this deck and pergola in Macon GA. The stairs that flank either side of the deck previously went across the entire deck. That didn't provide enough room for the family to fit their furniture and move comfortably around it. By splitting the stairs and extending the deck over that area provided the right amount of space for the eating area. Two feet doesn't seem like a lot but it makes a huge difference when expanding an outdoor area to better fit the furniture and traffic on the space.
The next thing the family wanted was some shade on the area. Pergolas are unique in that their designs can vary to allow a small amount of sun protection to providing a good deal of sun protection. The orientation of the pergola to the sun is one way to provide sun protection. In addition, the orientation of the joists and the distance of the lathes helps determine the amount of sun protection.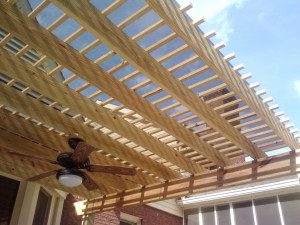 This family decided to use a product called SunScreen by Phifer. This screen provides visibility while providing UV protection at the same time. The area covered with SunScreen can truly feel 5-10 degrees cooler. In addition, we installed a fan under the pergola to keep the air moving.
The surface of the project was re-decked using AZEK low-maintenance decking. AZEK is a solid PVC that provides ultra low maintenance. Since the existing deck was structurally sound, we were able to re-surface or re-deck the existing deck.
With this Macon-area deck, 2 extra feet of deck space and a thin cover over the pergola made a huge difference.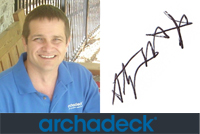 If you are considering adding a new deck, porch, pergola, patio or other outdoor living structure to your Macon-area home, give us a call for a free consultation at (478) 745 – 2000 or send us an email at centralgeorgia@archadeck.net. Please take a look at our website for more pictures and to fill out a contact form. To see more Macon area pergolas, take a look at the photo gallery on our website.