You have probably often heard the phrases "the early bird gets the worm", or "Johnny on the spot"  in regard to being eager and motivated and getting things accomplished. While being the early bird is a plus in many aspects, being too eager and not factoring in important details can mean that being first in line can pan out last.  As an outdoor living space builder I get asked all the time during the first meeting to guess a ballpark figure of how much a project will cost. One of the worst things I can do is throw out a number. Here's why.
Archadeck of Central Georgia does all of our pricing through a computer and innovative software that dictates price through pricing models. These pricing models take into account the width, depth, height off the ground, shape and various material needs in each project we do. It is a very sophisticated, yet accurate process, and I am constantly amazed at how bad my guesses are once I have compared them with the computer results. I have been designing and building outdoor structures since 1999, and even with my background and experience I guess too high on one out of three quotes, too low on one out of three and in the ballpark ( but not a home run), with one in three! With this in mind, the worst thing I can do is guess at a price or set a homeowner's expectation on something I cannot deliver.
In our last story, we discussed how a design can dictate the price. The real question that needs to be addressed prior to throwing out any numbers is how much you want to spend on a project. Archadeck of Central GA ask three important  questions prior to giving any quote to ensure the customer gets the space they want at the price they can afford.
Before you go to any car lot, you know if you are looking for a Chevy or a Lexus. Before you go shop for homes, you know whether you are looking for houses priced at $250,000 or 500,000 just to name a couple examples. You don't expect the Lexus dealer to give you a Chevy but you do need to know the range of investment and the level of quality you are seeking.
The three questions that any quality, experienced builder should ask their customer are:
#1) What do you want the project to look like?
#2) What function do you want to project to deliver?
#3) What is your economic investment? This ensures we can stay within the price range of what the homeowner is looking for.
In retrospect, if I am not able to get a homeowner to provide me with the answers to these three crucial questions, I typically do not get the work. It is however, not uncommon that there has to be some give and take on at least one of these areas. Archadeck of Central GA has built projects that are $4,000 and also projects in excess of $70,000, so we expect some grey areas.  The purpose of getting a customer to answer these questions is important because it gets clients to think about their situation which helps them determine how much money they are willing to budget for a their project because that is the question I cannot answer for them.
When you are comparing prices from one project to the next, unless you have written specifications and a drawing, or rendering, as well as methodology of the intended construction, then it is hard to only compare price. In the commercial world of building and design, architects design to certain specifications. These specifications are sent out to those bidding on the jobs and each contractor involved has to compile and deliver a quote based on the same specifications. This method ensures the purchaser knows that they comparing apples to apples and can make a well-informed decision based on the price supplied by those quoting the project. In residential outdoor design, the homeowner rarely if ever hires an architect. Therefore the customer and builder must work together towards a common goal and the builder must have ways to articulate exactly what their project includes.
Before you decide to go with the contractor who is the quickest to quote your project,take heed and proceed with caution because the ultimate success and happiness of your outdoor living space project is all about communication and details- something the "Johnny on the spot" builder is not prepared to deliver.
Remember that no two outdoor living spaces are created equal. Having an outdoor structure specialist designing your space can actually help keep the prices lower enabling a more suitable design for your individual needs. If you are ready to learn more about how we can enhance your outdoor living experience and stay within your budget, contact Archadeck of Central GA today(478) 745 – 2000
centralgeorgia@archadeck.net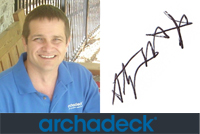 You can see more examples of our versatile, high quality outdoor living spaces by visiting our decks photo gallery and our porches photo gallery located on our website.