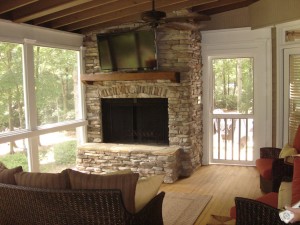 Porches sure have evolved since I was young. Many of us remember seeing porches with unfinished wood on all 4 sides finished with flimsy screens and a back door attached by springs that slams shut when you close it. Even since I've owned Archadeck of Central GA, porches have changed a lot. The first change is that not all porches are made with screens. The open porch is a very popular option. The open porch allows more breeze and other elements. You still have the experience of being outside but can enjoy the roof over head for those hot Georgia days that go on for months and months. In addition, a covered porch or open porch allows for protection from the elements so on some misty or light rain days, you will be able to spend time under your open porch while staying dry.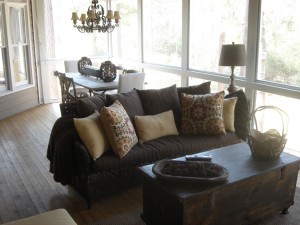 Screened porches have many benefits. Compared to an open porch, a screen porch allows both bug protection and protection from the elements. There are other benefits to protection from the elements. This opens up your furniture choices quite a bit because the furniture will not have exposure to sun and pollen the way it would on an open porch or deck. A screen porch also allows you to have more options for amenities such as a mounted television.
Whether you choose a screened porch, open porch, or even a deck or patio, you should make sure to choose a reputable builder. This is a big investment and can add a lot of value to your home. You want to choose an experienced contractor with dozens if not hundreds of such projects under their belts. Archadeck of Central GA has been building in this area for over 21 years. We pride ourselves on quoting prices that we stick with and that have no hidden fees. We pride ourselves on being able to work with big design challenges. Often times customers will tell us that other contractors had said there was no way to fit a screen porch to the back of their home and we were able to design a solution. Most importantly, we pride ourselves on the satisfaction of our customers throughout the Central GA area.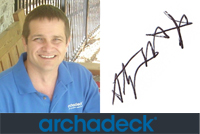 Give us a call for a free consultation for your new porch, deck, sunroom, patio, pergola, or whatever outdoor living area you have in mind. (478) 745 – 2000 or email us at centralgeorgia@archadeck.net.
Click here to see our porches photo gallery on the Archadeck of Central GA website