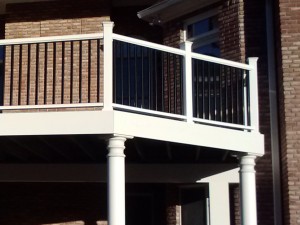 Sometimes we look at particular architectural features of a space and wonder just what the designer/architect/builder was thinking. If you've ever had a great space with a structural beam stuck right smack dab in the middle of it, you know what we're talking about. When these Fort Valley GA homeowners originally called us, they had an existing elevated second-story deck. The space under a deck over 8 feet off the ground can potentially become a covered patio. But in their case, their existing structure had a large column standing in the middle of the space. In addition, their deck which was made of pressure-treated wood was in really bad shape.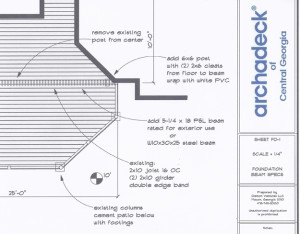 We were able to come up with a design plan that utilized the existing structure and accomplished all of their goals. The existing deck was 24′ wide which is why it needed more structural support than standard corner posts could provide. This can be accomplished in one of two ways. The first option is a center support column. This was the direction their builder originally took causing there to be an eyesore in the middle of their patio below. But, the innovative engineering option that Archadeck of Central GA designed had a long steel beam under the deck portion. Archadeck is part of a national franchise organization and employs an engineering/design team that is second to none. Our engineers created a solution utilizing a steel beam to support the wide deck.
In addition to the deck being wide, these homeowners also wanted AZEK on their new deck. We were able to resurface the existing structural components with their choice of AZEK PVC. The steel beam support was also engineered to support the increased weight of the new synthetic decking material which is a good bit heavier than pressure-treated wood.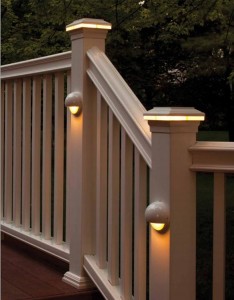 The next challenge was aesthetics. The deck resurfacing with AZEK was stunning. But, from below, we didn't want the steel support beam to be an eyesore. To accomplish this, we wrapped all the beams in low maintenance PVC. This included white PVC on the posts/columns and the trim board. The white color created a beautiful contrast to the dark decking material and dark colored railing spindles. The homeowners had done their research and knew that they wanted a lighting package that would encompass lights both on the posts and integrated into the rail caps. The picture to the right shows the Fiberon lighting package and railing we used on this Fort Valley deck.
One of the things you'll notice through reading this blog is that our proposed solution is not the one that's designed to cost the most money. While we could have recommended demolishing this deck and starting from scratch, we were able to re-engineer the fully functional existing structural parts. Our goal is to create the best solution for you, your family, and for how you want to live.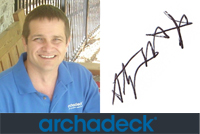 If you are considering creating a great new outdoor living space for your Macon/Warner Robins area back yard, or if you want to give a fresh new look to your existing backyard space, give us a call for a free consultation. Together we will work to identify the best structures and materials to create the perfect outdoor living space just for you.
Call: (478) 745 – 2000
Email: centralgeorgia@archadeck.net
Visit the composite and PVC deck picture and photo gallery on our website for more great design ideas and inspiration