A few months ago, a deck collapsed in New Albany IN. It was a terrifying incident and 24 people were badly injured. Fortunately, or unfortunately, it was all caught on tape. A family was gathering outside on a commercial deck for a family picture when the deck fell out from under them. Take a look at this terrifying video.
Last year we wrote a blog about deck safety. In our opinion, there are no deck accidents. There may be accidents waiting to happen due to shoddy construction. But, with solid construction from a licensed and professional builder, you can be ensured that the deck will not fail outside of Acts of God. At Archadeck of Central GA, we are part of a national franchise corporation that sets strict engineering requirements that meet or exceed all local code. We are a licensed builder. We always pull permits for our work and all of our work is inspected fully by local inspectors. We even offer 2 warranties because we are certain that you are getting the highest quality workmanship available. (Read more about our Archadeck of Central GA warranties here)
What if you already have a deck that was either built many years ago or even one that came with your house? There are 4 things to check to see if it's time for a deck safety inspection.
If you stand on the deck, can you make the deck move side-to-side?
If you stand on the stairs, can you make the stairs move from side-to-side or do the stairs depress when stepping on them?
When you look under the deck, can you see fasteners or just nails? If you see just nails, call us right away!
Take a look at the deck footings. Are the deck supports just standing on top of concrete blocks not buried below grade?"
Even better, ask a knowledgeable licensed deck contractor to come out and inspect your deck. At Archadeck of Central GA, we're happy to come out and look at your deck to see how many years it has left on it. If it's in great shape and has many years on it, we'll tell you that. If your deck is in need of repair or is a severe safety hazard, we will tell you that also.
Take a look at the TV interview we did last year about deck safety.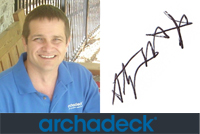 Give us a ring to schedule your free deck safety inspection.
(478) 745 – 2000
centralgeorgia@archadeck.net
http://central-georgia.archadeck.com