As a long time Central GA porch builder, we love referrals.  It's great when someone likes our work enough to refer us to their friends and family.  We know what a tremendous compliment that is. In this case, we built a project for one customer who referred us to a second customer – who we built a project for. Then, that second customer referred us to these homeowners.
These Perry GA homeowners had a screened porch that no longer reflected their lifestyle. The porch was a menagerie of its prior inhabitants: the floors and roof were a mish-mash of past projects and, while it was still structurally sound, it was not up to code.
The client wanted a space that would allow them to enjoy fresh air and not block their yard view from the living room and kitchen. After a consultation about what they liked and disliked about their existing structure, we created a design to accomplish all their objectives.
Once we had a plan in place, we set to work.  The first priority for this project was to bring the porch up to code to ensure safety, so we laid beams under the deck and attached them to the house for a firm foundation. We didn't want the wonderful view to be obscured by too much sectioning, so we changed out the walls and supports in order allow the homeowners to really enjoy being in their yard.  The original porch had seven different screen sections in one wall; we reduced it to four by adding a beam which really opened the porch up.
The design drawing helps our customers know what their finished project will look like.[/caption]Archadeck thinks carefully about the flow of each project– good flow ensures that the space will be useful and beautiful, not just structurally sound. The placement of the original door created traffic problems, forcing anyone walking to either cut through the middle of the room or to awkwardly skirt the edges. We fixed this by moving the location of the door to the side to allow for quick and easy travel.
We solved the owner's mosquito issue by placing screened walls at the bottom of the deck, denying the pesky bugs access through the floor. The old lattice was tired, so we created a proper foundation with new latticing to mirror the structure of the screening. Before the renovation, beyond the door, there had been only stairs. We gave our family a side deck with space for a full grill that they could use for summer barbecuing. As a final design touch, we installed white porch screens, so the exterior could be painted to match.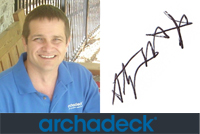 If you are considering creating a great new outdoor living space for your Macon/Warner Robins area backyard, or if you want to give a fresh new look to your existing backyard space, give us a call for a free consultation. Together we will work to identify the best structures and materials to create the perfect outdoor living space just for you.
Call: (478) 745 – 2000
Email: centralgeorgia@archadeck.net