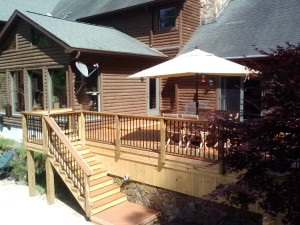 Families grow and change over time.  The good news is that your outdoor living spaces can do the same.  We recently had the opportunity to do a makeover on a multi-level deck which we originally built in 1992.  We remembered working on this home because it was previously owned by the Allman Brothers.  The framing was still in good shape, but the floor and railings had weathered over the last 22 years and the needs of the family had changed so we came over to consult on an upgrade/makeover.
The original deck had several levels that stylishly connected the home to the swimming pool.  The kids were young the first go-around and getting them to and from the pool and having a good view of the water were the top design concerns at the time.  This year the clients wanted to create a more relaxed, living room-type space looking out at the pool and surrounding woods.  The house has log cabin construction that fits very naturally with the lot and we aimed to keep the refurbished deck consistent with that look.  To that end, we will stain the wood areas to match the home.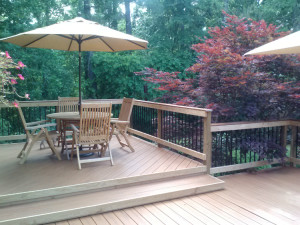 We built the lowest level up to match the height of the largest existing section.  This allows for plenty of space for eating and entertaining.  There are now two eating areas with great flow between them for mingling or just moving about.  Multiple deck levels are ideal for allowing either for multiple use or for breaking groups into different clusters: think teens at one table and adults at another.
The decks are surrounded by new, solid skirting with doors underneath, garnering the family ample, secure outdoor storage.  Composite materials have come a long way in recent years.  For this update the family selected TimberTech decking to build the floors and rail caps.  The railings are stained wood with black pickets and provide the necessary safety without compromising the view to the water and trees.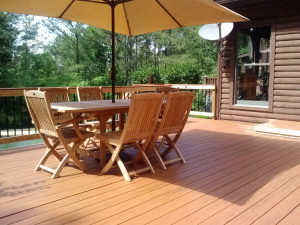 Rumor has it the Cher once stayed at this home. We think she would love the new deck! When you are considering deck builders in Juliet, GA, we hope you will give Archadeck a call for a free consultation.  We'd love to talk with you about new construction or a refresh project like this one.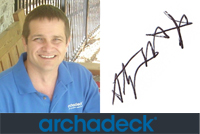 Call: (478) 745 – 2000
Email: centralgeorgia@archadeck.net
Visit the composite and PVC deck picture and photo gallery on our website for more great design ideas and inspiration