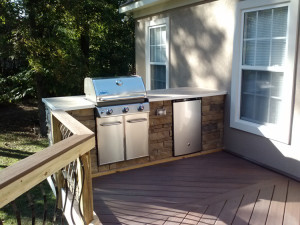 When you hear outdoor kitchen, you immediately envision a large space with all the "fixins". And, your mind starts calculating all the dollars and cents involved in adding an outdoor kitchen. For this Milledgeville family, the outdoor kitchen was almost an afterthought but the way we did it made this afterthought possible.
These homeowners had an existing deck in need of some work. It was in some disrepair did not fit with with the condition of the rest of the house. If this new Fiberon composite deck could talk, it would whisper a few great ways ways to get the structure you want, with great materials at a much more affordable cost.
Your existing deck may be a great fit for re-decking
The first secret is re-decking. Re-decking means keeping the existing deck structure but adding a new face to it with new decking boards and a new railing. A good bit of the expense in building a deck is in the sub-structure. While the structure needed some reinforcement like some additional joists, we were able to use the existing substructure and just add new decking boards.
Forgo the drop-in and outdoor rated materials
If you've shopped around for outdoor kitchens or outdoor kitchen elements, you know the components can be incredibly expensive. But the next secret is that sometimes you may not need drop-in grill tops or even an outdoor rated refrigerator. Taking a look at this picture, you'd probably never know but the grill is a standard Weber grill that we built into the kitchen unit. And, believe it or not, the refrigerator is a standard compact refrigerator rated for indoor use. While drop-in outdoor cook tops can easily be $2,000 – $4,000 or more, this standard Weber grill was a fraction of that cost. There are a couple other benefits related to integrating a stand-alone grill into an outdoor kitchen unit. If something breaks on the grill or if it just becomes rusty and aged, you can purchase a new grill to insert into the area just like you would a drop-in stove. Further, there's no reason to run gas to your outdoor grill. Underneath this grill is the standard gas can that you fill at your local neighborhood grocery store. Your guests will think your kitchen includes an expensive grill top and cabinetry.
The refrigerator used is a traditional indoor rated refrigerator. Because the refrigerator is under the cover of the bar top, it is protected enough to last without any more problems than you would have if it was used inside. A few years down the line, if you need to, just pop it out and replace it with a newer mini fridge of the same size. The electrical ground fault circuit interrupter is built into the kitchen unit.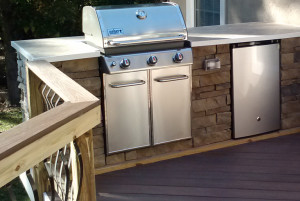 The secret of synthetic stone
Synthetic stone has come so far. It truly is indistinguishable from genuine stone in every way except for the price. We used Suncrest stone veneer in Banks County Stack to face this outdoor kitchen unit. Synthetic stone veneers come in many colors, shapes, and sizes. We selected the stone facade you see here in colors that compliment the colors we find in this area of Central GA.
Keeping the railing pricing down
The decking boards are Fiberon ProTect Advantage in Chestnut color. The bones of the railing are built with pressure-treated pine. Atop the railing are Fiberon deck boards matching the ones used on the deck. This gives the custom look at a more affordable price. Using composite or synthetic materials for railing may not be a necessary expense. The weather is a lot more forgiving to vertical structures than it is to horizontal structures such as railings. So, while synthetic is a great fit for decking and the railing cap, the expense can be spared with the posts and spindles. These particular customers did select beautiful baroque balusters which were another nice complement to the other materials used.
You will meet all sorts of contractors. Some will want to sell the biggest and most expensive project they can. Some will be looking for a quick job because of cash flow. Others have been building in their local area for a long time and want to give the best solution to their local area homeowners. While other builders might not have suggested these cost efficiencies to their customers, we regularly offer or advocate cost saving options that make sense for how the homeowners plan on using their outdoor space. We've been in Central GA for 23 years and plan to continue to be here for many years to come.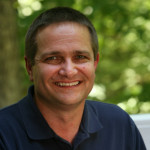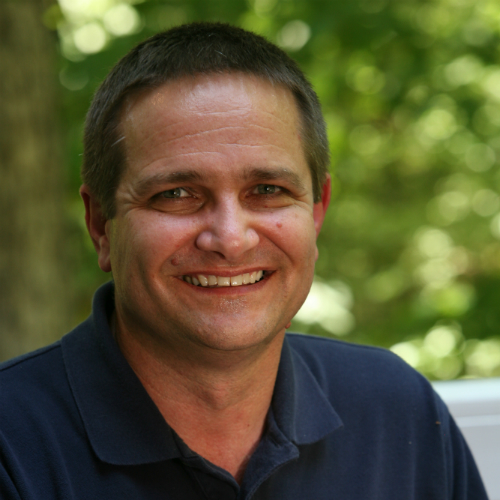 Give us a call if you are considering adding an outdoor living space to your Central GA area home. We would love to provide a free consultation to see whether Archadeck of Central GA would be a good fit for your upcoming outdoor project.
Call (478) 745 – 2000 or email centralgeorgia@archadeck.net. We look forward to your call.