Take a look at this Kathleen GA home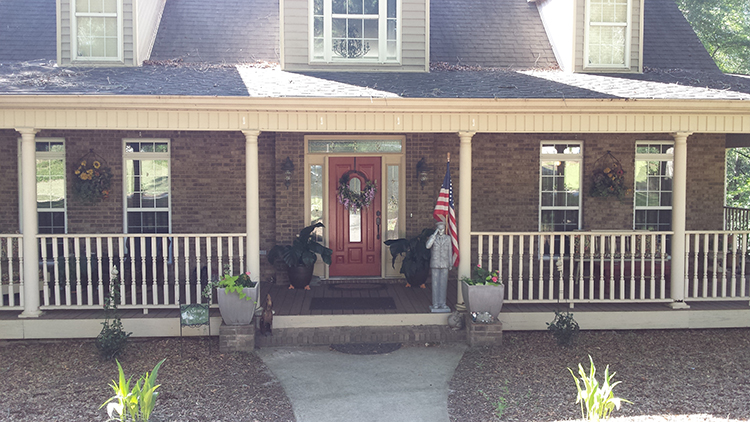 Beautiful right?  Take a look at it now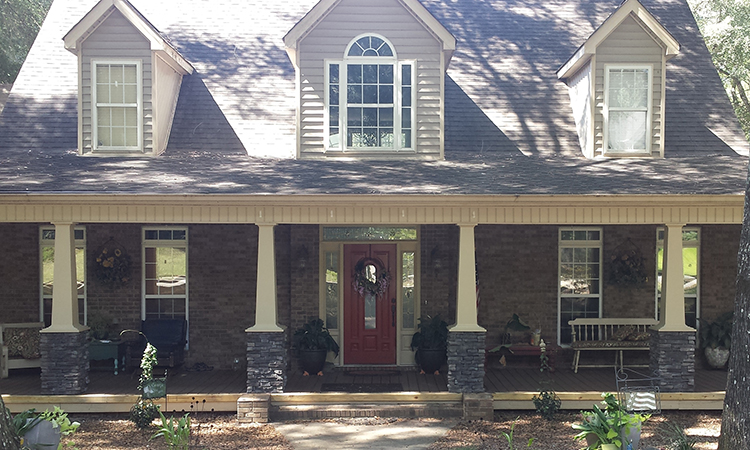 If beautiful-er was a word, that is how we would want to describe the front of this home after the transformation. When these Kathleen GA homeowners first called us, they knew exactly what they wanted and they were looking for the right outdoor builder to help transform the front of their home.
When we say they knew exactly what they wanted, they really did. They wanted craftsman style columns across the front and down the sides of their home. They wanted the base of those columns to be wrapped with cultured stone. They had called a building supply company to come out and give them a quote. After coming out, the supply company never got back to them. We were fortunate enough that she found us and gave us a call.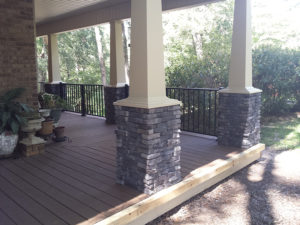 Let's take a look at some of the details of this job. The specifications for the columns were so unique that we searched high and low to find these columns, finally finding them in Washington state. They came unassembled and we assembled them in the front yard. We wrapped the bases with a cultured stack stone menagerie of soft gray tones.
Next, we worked together in a decision not to add railing across the front of the porch. The front porch was very low to the ground. Therefore, building codes did not require railing across the front. The frustrating thing about railings is that code dictates the height of the handrail will always interfere with your view when you are seated. We did add a railing down the side of the home because the grade dropped off. We used black aluminum railing, which mimics wrought iron, to match the regal and elegant flair of the chosen columns.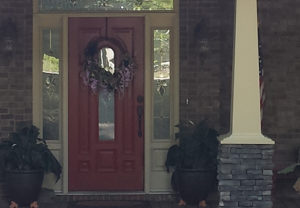 Instead of leaving the columns a stark white, we painted them off-white to match the trim on the home. You can see that they maintain the regal nature and looks as if they had always been part of this home's beautiful front facade. The stone compliments the home's brick facade perfectly and the red door adds that perfect pop of color!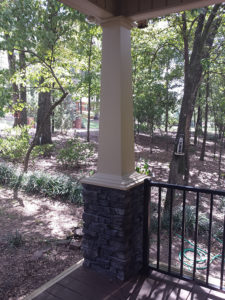 Let's take a look at the columns and the rail from on the porch. Wow has the view from the porch been transformed! Also note how the railings down the side still provide great visibility. If you've been following the trends, you'll see a lot of narrow profile dark colored railings in aluminum, iron and other materials. The dark color tends to draw your eye through the railing vs. traditional white railings which tend to keep your view on the railing itself.
If you are considering adding to or improving your outdoor space here in the Central GA area, give us a call for a free consultation at (478) 745 – 2000. We look forward to your call.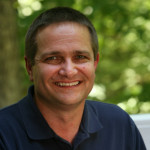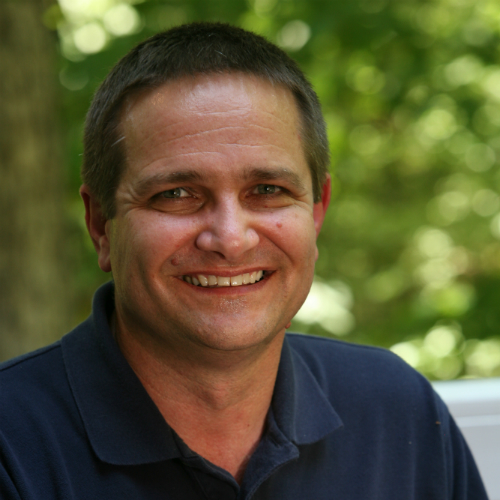 To see hundreds of great pictures, watch Archadeck of Central GA videos, or read customer reviews and testimonials, visit our Archadeck of Central GA website.