The project you see below is a project we built in Monroe County, right outside of Forsyth, GA. It consists of a custom-built gazebo and a backyard bridge to add storybook charm to this homeowner's backyard.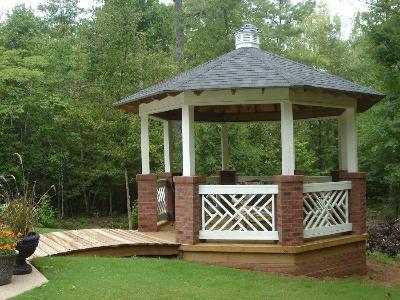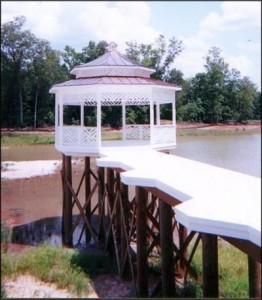 The intended goal these Monroe County homeowners wanted to achieve was two-fold. The owner's pool sits perpendicular in their back yard carving a long path to the free standing gazebo that sits at the very end. The bridge, gazebo and surrounding landscape paint a picturesque scene from all angles of the backyard.
The gazebo was built with pressure-treated wood framing and includes brick skirting and brick around the columns that matches the brick on the home. The pressure treated railing has a large Chippendale pattern design for added interest. The homeowners wanted a decorative cut on the end of the rafters so we used an Ogee pattern cut. On the exterior we used a solid white sealer instead of painting. We used Cabot's solid white sealer which will not require further maintenance for 5-7 years since the surface is vertical. We recommend using a stain or sealer as opposed to painting on pressure treated wood for optimum results.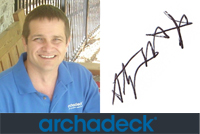 If you are looking for a way to enhance an existing spot in your landscape, or enhance the view along a creek or pond, a gazebo is the perfect answer. They deliver a 360 degree view of the area around them and provide a protected spot for gathering. Contact Archadeck of Central Georgia to learn more about our gazebo and pergola designs. We can transform your backyard with a unique or traditional space, the results will be timeless. Call for a free consultation (478) 745 – 2000
centralgeorgia@archadeck.net
See more charming gazebos by visiting our gazebo photo gallery located on our website. You can also see more examples of other shade structure options by visiting our pergola and trellis gallery also located on our website.