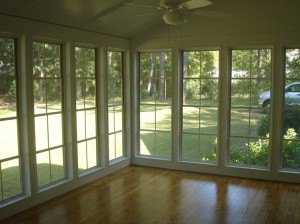 With the onset of cooler weather, we continue to receive more calls with questions regarding the Eze-Breeze window system. This system is the perfect answer to turning your screened porch space into a 3 or 4 season room space by providing more protection from the elements and insects. By installing an Eze-Breeze system you can decide how much, or how little window you use at any given time.
Room to breathe
Unlike traditional windows, the Eze-Breeze system does not require a traditional window frame. The window panels are custom-sized to fit your existing openings without expensive re-framing. So you can keep out the chilly wind in the fall without having to build a Sunroom! In addition the vertical 4-track unit  gives you the capability of opening the windows up to 75% of the window area, which is well over the 50% offered by traditional glass products. This feature allows you to maintain the features and view you love about your screened porch by simply opening the windows when you like. This option also gives homeowners added air circulation to help keep the area cool on those balmy Georgia afternoons.
Keeping it clean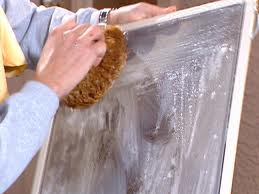 Cleaning your Eze-Breeze windows is a breeze. The window vents tilt in for easy cleaning and they can be ordered in clear, bronze and gray tints to reduce the sun's glare as well. Cleaning the windows only requires using a solution of Woolite or Murphy's oil soap, a soft cloth, and water. It is recommended that you remove your rings, watches and bracelets before cleaning the windows because the vinyl can be punctured by sharp objects. We also recommend a final cleaning with a moderate amount of our Vinyl Cleaner available from your PGT distributor. It will prolong the life of your Eze-Breeze Sliding Panels and reduce static electric charges that attract dust. Never use ammonia, ammonia based cleaners or dishwashing detergents and soaps, as they can harm vinyl. It is recommended to clean the windows twice a year for optimum results. For a detailed diagram of how to care for your Eze-Breeze system you can visit the website care and cleaning page here.
Georgia on my mind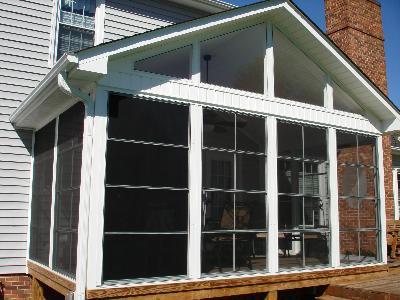 Our mild climate allows homeowners to use their porches year round. Many times your screened porch can be utilized even when old man winter comes to call by adding a space heater to your space. The same rings true for our humid summer days by adding a ceiling fan or oscillating fan to your porch can help keep you cool when using your Eze-Breeze window system as a valued part of your porch design. They can be raised or lowered or if desired, the vents can be taken out completely in the summer and stored for use when the weather starts to get colder. The choice is yours.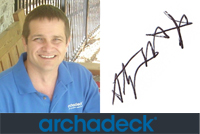 The benefits the addition of these windows can bring to your porch environment are endless. Once you have made the decision to install the system, you will wonder how you ever got along without it. Contact Archadeck of Central Georgia to learn more about this wonderful product and how we can transform your screened porch into a room for all seasons with these economical and versatile windows. Call us for a free consultation today (478) 745 – 2000
centralgeorgia@archadeck.net
See more examples of the Eze-Breeze system in action please visit our screened porch gallery located on our website.