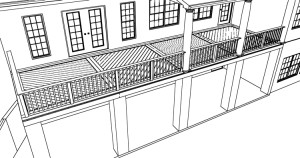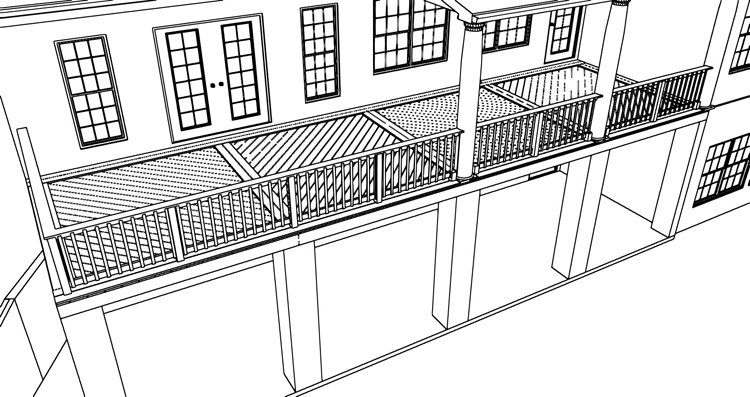 Periodically we are so excited about an upcoming job, we like to share the details here on our blog. This particular deck will be made of Ipe with Garapa picture framing. Both are exotic Brazilian hardwoods that are extremely dense with a very tight grain pattern, making them inherently insect damage and rot resistant.  Both have gorgeous natural color with an appealing range of tone variation.  Ipe is darker brown with red highlights.  Garapa, by contrast, is light yellow to golden blonde in hue. Ipe is also known as Brazilian Walnut or Iron Wood; Garapa is sometimes called Brazilian Ash.
Archadeck of Central GA is beginning a second story deck in these two striking woods. The elevated deck will have a partially covered area to add a covered porch section to this deck. As an added bonus, a second-story deck creates an open porch  below.  It's going to be stunning.  The ipe boards will lay in contrasting diagonal courses.  The garapa will be used to frame the ipe, almost like a work of art.  Both woods are gorgeous on their own.  When placed next to one another, each brings out the best characteristics of the other.  When the French doors leading to the deck swing open, guests will reflexively pause to appreciate the beauty of the deck before taking a step onto it.
Remember when you are looking for a Macon GA ipe deck builder, that both ipe and garapa are specialty woods that demand specialty building knowledge and experience.  While the benefits are their natural durability and beauty, they are also challenging to install–especially for the inexperienced.  The incredible density that keeps ipe decks strong and looking great for 50 years or more requires special treatment and materials during construction, making the costs for these decks slightly higher and experience in working with them absolutely crucial.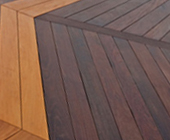 When this elevated deck is complete, the colors of the wood will effortlessly blend with the earth tones in the surrounding yard.  The ipe/garapa combination mimics the light/dark contrast that we see everywhere in nature, the result of sun and shadow.  Our 3D rendering of this project gives us and the owner a sense of what's in store when the project is complete, but we are especially excited to see the finished product in this case.  This Brazilian hardwood combination is going to be amazing to behold in real life .
If you are considering creating a great new outdoor living space for your Macon/Warner Robins area back yard, or if you want to give a fresh new look to your existing backyard space, give us a call for a free consultation. Together we will work to identify the best structures and materials to create the perfect outdoor living space just for you.
Call: (478) 745 – 2000
Email: centralgeorgia@archadeck.net
Visit the ipe deck photo gallery on our website to see some more pictures of ipe projects in our area.