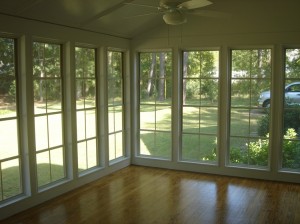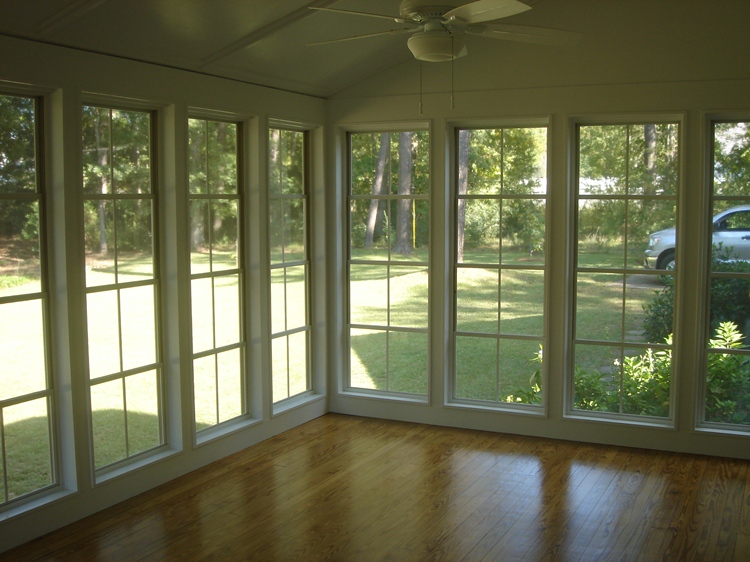 Using the right vinyl windows can turn your screened porch into a 3- or 4-season room. Archadeck of Central Georgia installs vinyl window systems for new and existing screen porch transformations. A vinyl window system enables you to be better protected from the elements thus giving you the ability to use the room for more months during the year.
Vinyl window systems offer more protection from inclement weather, wind, rain, and even the cold with the addition of a space heater on your screened porch. But be careful, all vinyl window systems are not created equal. For a vinyl window system to function properly it needs to contain a window frame that is built to support the vinyl windows. We have found that the Eze-Breeze window system is the best, and we use this system exclusively.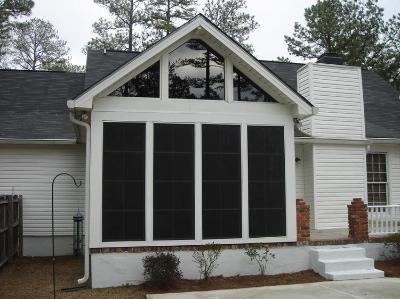 If you are considering a window system in your outdoor room it is crucial that you hire someone to professionally install the windows and  that the windows themselves are good quality. In a vinyl window system the frame system is going to carry all the weight. If you are thinking of just using vinyl windows without a framing system it will lead to a multitude of headaches and problems on down the road. The Eze-Breeze window systems that we use include a supportive frame system that can carry the strength of the windows without putting stress on your outdoor structure itself.
Not only are Eze-Breeze systems strong, they come with a plethora of functional options to make your life easier. One of the options they offer is the sliding track system that allows you to operate the windows easily and engage the windows according to how much or how little you want to use at your leisure. This tracking system for the Eze-Breeze porch enclosures gives you the freedom of horizontal or vertical sliders that offer up to 75% ventilation.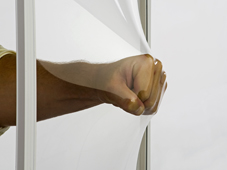 The vinyl used in the Eze-Breeze system is an innovative product that is strong, nearly invisible in its clarity, and isn't susceptible to cracking or breaking. If the unforeseen happens, such as a baseball pop-fly that hits one of the windows the window actually takes the blow and pops back into place! If the vinyl is accidentally misshapen or distorted it will revert back to its original shape within minutes.
If you are ready to create a versatile room by bringing all the beauty of the outdoors in the room and leaving all the undesirables out, contact Archadeck of Central Georgia to learn more about our screened porches, outdoor rooms and vinyl windows systems for use in your porch enclosure.  Contact us for a free consultation (478) 745 – 2000 centralgeorgia@archadeck.net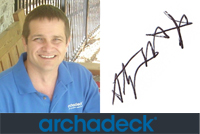 You can see more stunning transformations of screened porches into sunrooms  and 3 & 4 season rooms by visiting our screened porch photo gallery and our sunroom gallery located on our website.