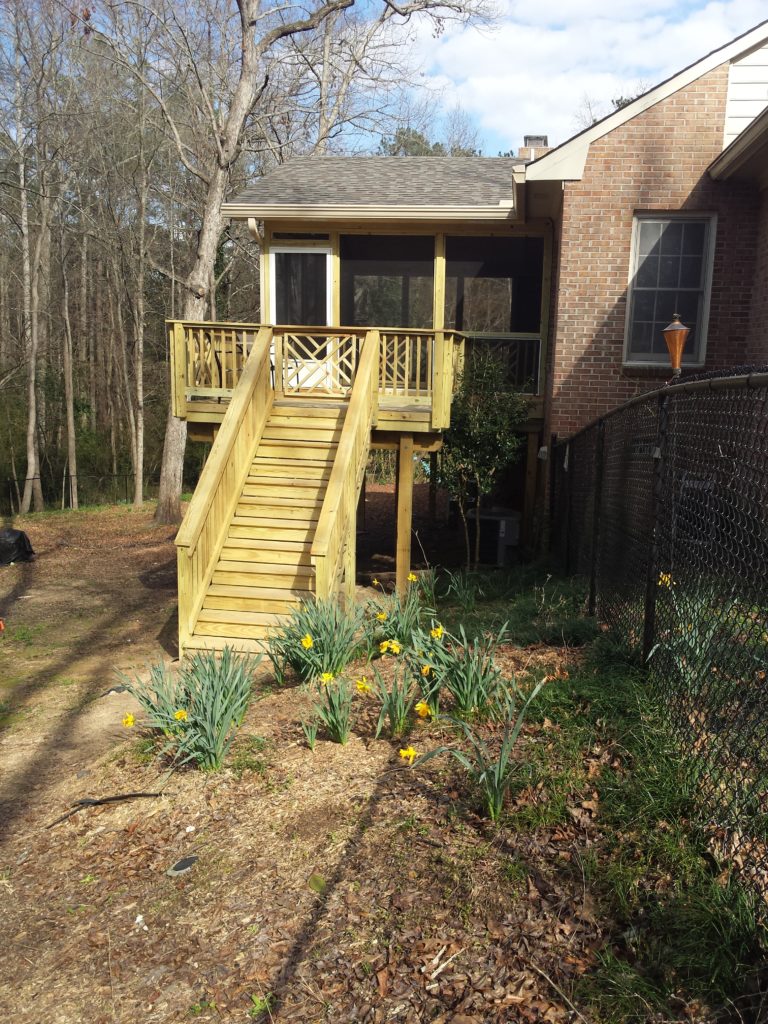 If your heart is telling you that you'd prefer a smaller outdoor living space, then by George, it's time to stop, listen and downsize.  Every now and then we work with homeowners who want to go smaller rather than bigger when it comes to their outdoor living space. As the premier Macon and Warner Robins deck and porch designers/builders, Archadeck of Central Georgia will fully support you in this decision.
At Archadeck of Central GA, we don't just build, we design and build outdoor living spaces. To design, we first listen to you, the homeowner, as you describe the space you have in mind. We won't try to talk you into something bigger or fancier than you want.
In the case of these homeowners in Macon's Wesleyan Woods neighborhood, they had a large deck that was part of the house when they purchased it, and this deck was too big for them. We have found, as deck designers, that when a deck stretches out too far from the house, the homeowners tend to push their furniture farther and farther out to get closer to the yard. From a design standpoint, that's not a great use of space.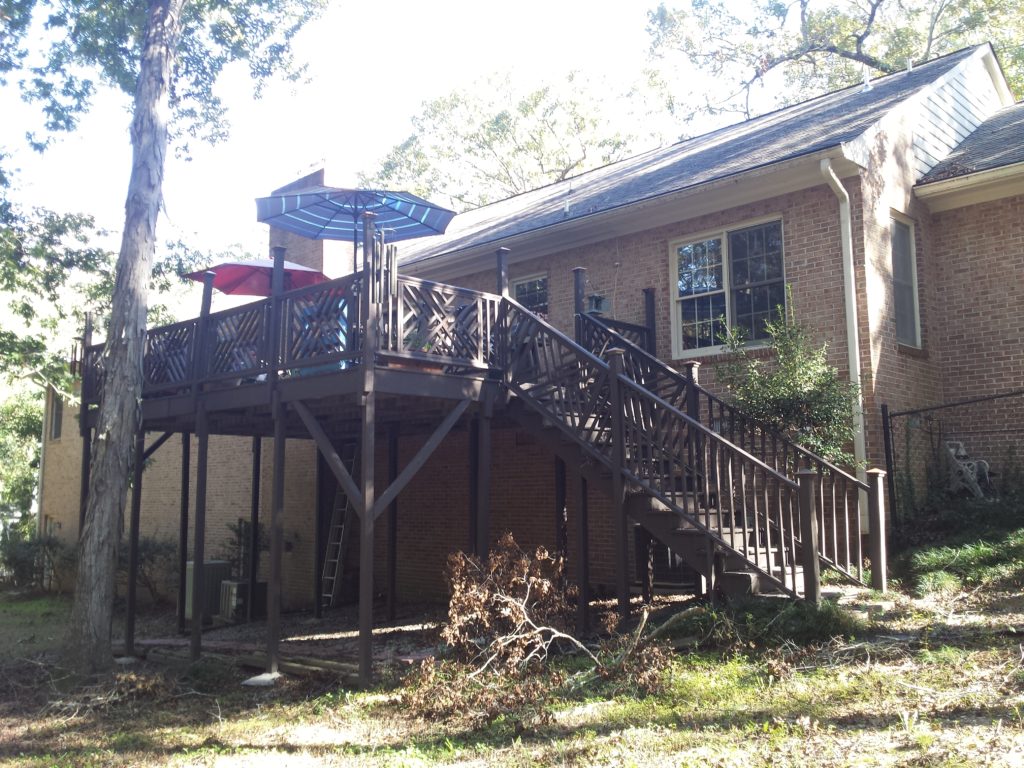 What's more, these clients truly wanted a screened porch, not a deck, so this project falls into the category of deck-to-screened-porch conversions. They did, however, request a small (10×12) side deck off the new screened porch as a place for their grill.
A deck-to-screened-porch conversion is similar to a redecking in that once we remove the deck floor, we have to evaluate the existing posts, beams and joists to determine whether we can still use them. In this case, some of the original joists were still in good shape but there was not enough, so we had to add more. However, the posts and beams of the original joists were still in good shape, so we were able to use those. We also replaced the stairs, but we designed them to end on the same path where the original deck stairs ended.
The Wesleyan Woods homeowners selected pressure-treated wood as the building material for their screened porch and side deck. We installed white screened panels for the screened porch because the clients plan to use a solid white stain for the porch, inside and out. In keeping with the porch and side deck, the pickets and railings are built with wood. We also built special Chippendale panels for the side deck; that was one aspect of the original deck the homeowners wanted to recreate.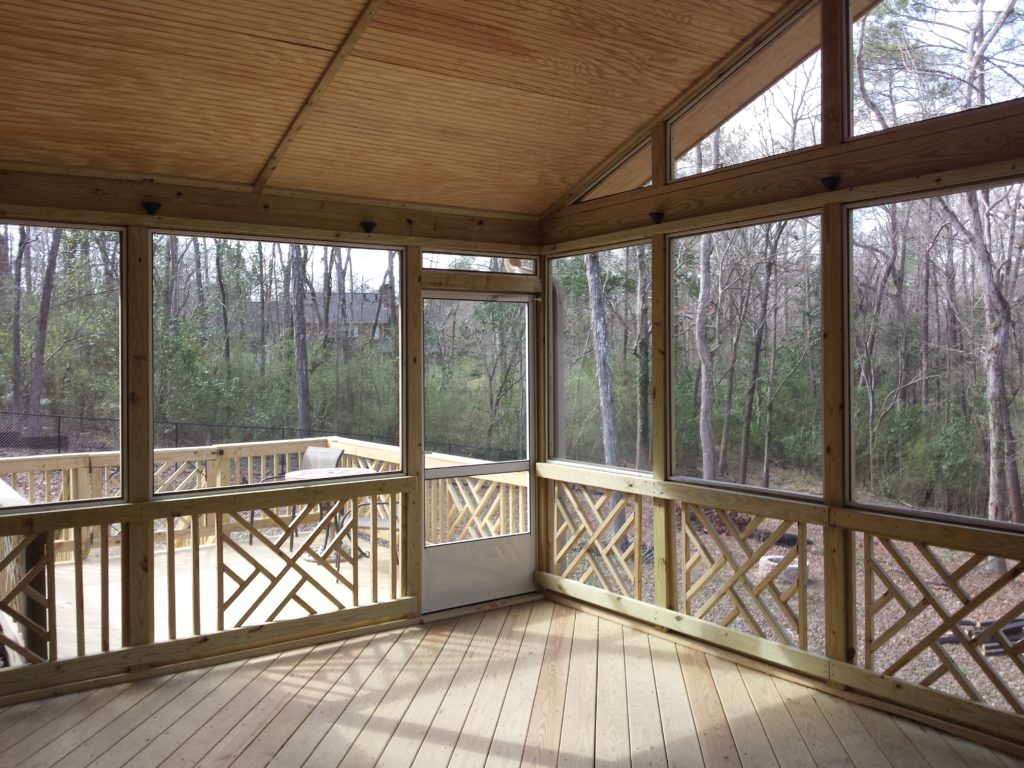 Wesleyan Woods Screened Porch Builder
As with all porches Archadeck of Central GA builds, we installed screening under the porch floor between the joists and the floor boards. This is important as a barrier to keep insects and other debris from coming up through the porch floor. Many of our clients are surprised to learn we do this.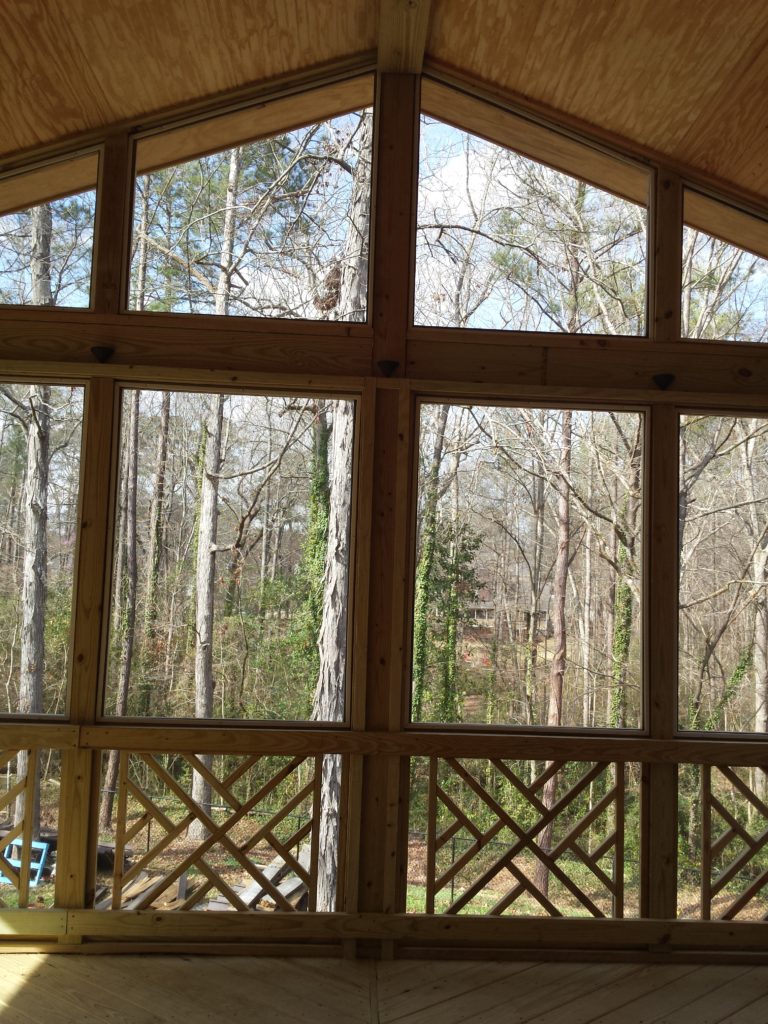 One last detail — we worked with the homeowners' electrician for all of the electrical work needed on the new porch. We are always willing to work with the clients' electrician if they prefer that.
Is your deck too big or too small? Would you rather have a porch? Contact Archadeck of Central Georgia to learn more about our custom outdoor living designs. You can reach us by phone at (478) 745 – 2000 or via email at centralgeorgia@archadeck.net