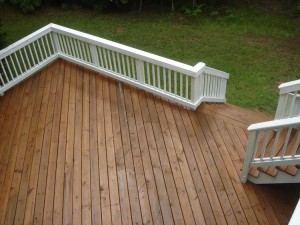 Maintaining your outdoor living structure can be a big headache but it doesn't have to be. The allure of an outdoor living space is relaxation. But in order to keep your outdoor space running smoothly and looking beautiful it will require some degree of maintenance. Some materials require more intensive maintenance than others. But keeping in time with your maintenance schedule is the difference between keeping your beloved outdoor structure looking like new and allowing it to look tired because of lack of maintenance. In fact, there are many low maintenance products available which maintain their like-new look without all the work.
All maintenance requirements are not created equal
Are you trying to decide between a pressure-treated, Ipe, or composite deck? Each material is characteristically beautiful in its own right, but the level of maintenance required on all three materials is quite different. Standard and premium grade pressure-treated decks require pressure or chemical washing followed by an application of a sealer which will protect the lumber from absorbing water. This is usually required on an annual basis or possibly more depending on the amount of exposure to the sun. Pressure-treated boards have the capacity to soak up a great deal of water. Humidity and moisture mixed together will cause the rapid expansion and contraction of the wood which will cause your deck to weather faster which is why it is so important to seal your pressure-treated deck. Vertical elements of your pressure-treated deck don't require the level of maintenance that the floor, steps and rail cap will, this is because the water does not sit on the wood but runs off.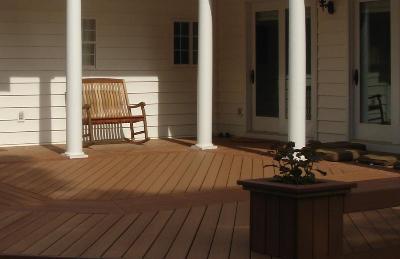 With pressure-treated decks maintenance is the key to keeping the deck beautiful and structurally sound. If you miss a year or two it can ultimately cause irreversible damage. On the other hand, if you love the look of natural wood there is another option called Ipe. Ipe is a dense and exotic looking hardwood that requires less maintenance than other wood options for your deck.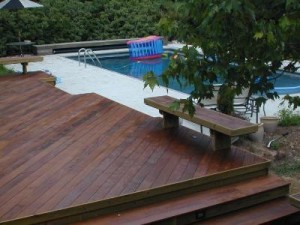 Ipe is a Brazilian hardwood that is literally harder than nails. Its density makes it desirable in outdoor structure settings. Ipe is so dense that it needs to be pre-drilled before the pieces can be connected. We recommend sealing an Ipe deck with a good sealer to retain the material's dark, rich tone. If Ipe is left to weather it will age to a beautiful grey patina over time. The maintenance required for Ipe is not as tedious as that of pressure-treated wood. You can let Ipe go for a few seasons and then seal it and it will then look like new again.  Good quality sealers can be found by checking with Consumer Reports, but we also highly recommend Cabot stains and sealers, and Olympic also makes a good quality sealer as well.
The key to successfully sealing any wood deck is to do so when it is dry. Make sure the deck remains dry after application up to 48 hours if possible. You will want to check the forecast before starting your maintenance. A good rule of thumb to check to see if it is time to seal your wood deck is to sprinkle a little water on it, if the water beads up then it is not necessary to apply sealer. When the sprinkle test reveals that the water blends in with the deck within 15-20 seconds of application then it is time to treat your wood deck.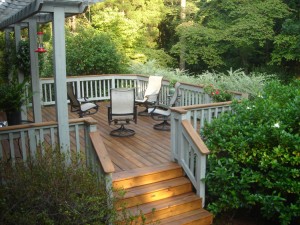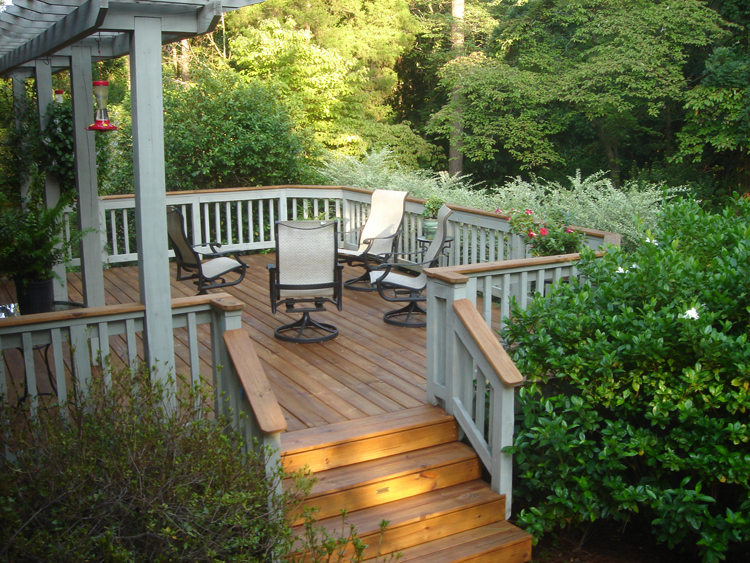 One of the lowest maintenance options is composite decking. Today's composites come in a wide array of finishes, textures and tones that rival the look of real wood. Composite decks do not require sealing or annual maintenance to keep them looking new but they do need to be cleaned periodically to remove dirt and debris. Most brands only need soap and water cleanup to keep them looking new. Common sense practices come into play when talking about maintaining composites. Materials that stain such as ketchup, grease spillage from the grill and even wet leaves should be cleaned up immediately to avoid damage to the deck's surface. Compare your reaction time when dealing with composites to that of any surface in the home. If you would rush to clean it up on an indoor hardwood floor, then you should take the same care for any outdoor flooring material. The end result will be a composite deck that stands the test of time and looks new for many years to come.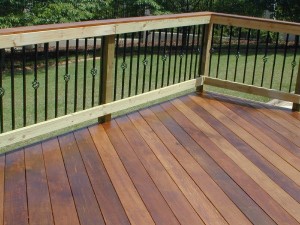 If you are on the fence about what material to choose for your new deck, take the amount of time you are willing to spend on maintaining that deck to keep it performing and looking like new into consideration. Contact Archadeck of Central Georgia to learn more about the material options that would best suit your needs, your wants and most of all your outdoor living lifestyle.
Call for a free consultation: (478) 745 – 2000
Email:centralgeorgia@archadeck.net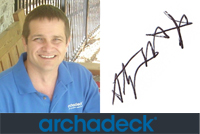 To see more inspiring images of decks built with various medias, visit our wood deck gallery, our Ipe deck gallery and our composite deck gallery located on our website.