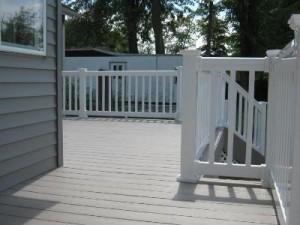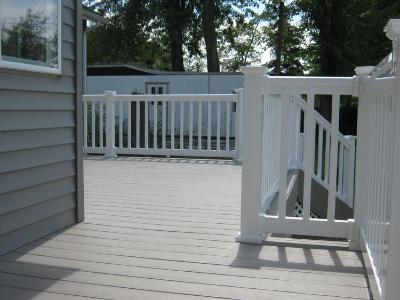 When designing your outdoor deck and stairs, many homeowners think the railings need to be made with the same material as the deck.  In fact, you have much greater flexibility.  You can mix-and-match materials to create your own style.
There are a number of material options for railings based on cost, maintenance, and future additions.  Materials range from the lesser expensive pressure-treated wood all the way up to the clean, modern look of low maintenance dark aluminum.  Railing end caps may also include lighting for both safety and ambiance.  The end caps can be flat, pyramid, or hidden, adding decoration to the end of the railings.
Many Central Georgia homeowners like the look of wood and choose it often.  Pressure-treated wood can be painted any color, with white being the favorite color or simply left natural.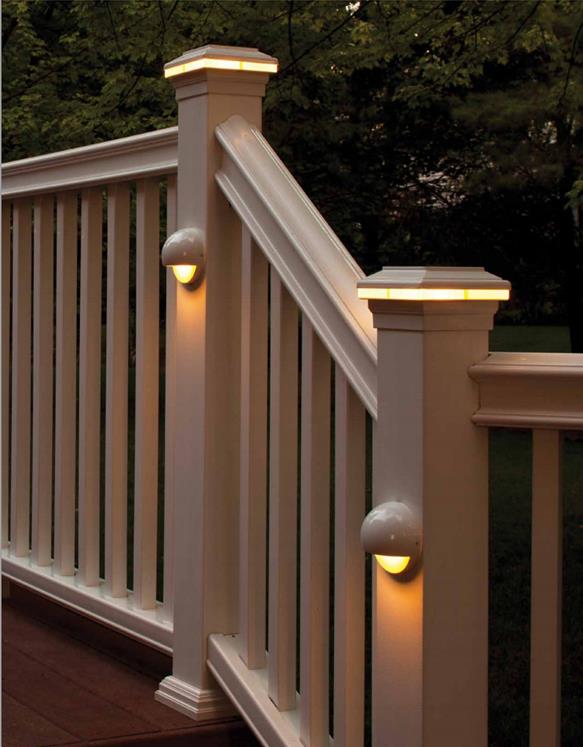 It is also common for homeowners to choose to mix and match other materials with wood.  You may want a wood railing but with a composite rail cap to reduce maintenance and tie your railing into your deck.
Choosing a composite railing system allows you to match your composite deck in both texture and color.  A composite railing system is more expensive than wood.  However, the durability and minimum maintenance of composites save you money in future maintenance and save you time and energy in annual maintenance.
Another frequently considered railing option is aluminum.  Aluminum railing systems have a strong, clean feel.  Aluminum is durable, does not rust and has the lowest maintenance cost of all the railing materials.  Aluminum railing is easily made decorative using metal baskets or baroque balusters.
If you want a decorative railing but don't want the initial expense of all-aluminum, consider a wood or composite railing with baroque aluminum balusters.  Mixing and matching wood or composite railings with dark aluminum baroque balusters makes a very decorative and stylish railing.
A less used material for a railing system is wrought iron.  Wrought iron railing systems have a classic southern charm but homeowners do not choose them often.  Iron rusts and maintenance is always a consideration.  Wrought iron must be painted at the work site.  A painted wrought iron railing system will last only a few years before having to be touched-up or painted again.  The maintenance can be expensive and labor intensive.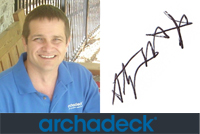 With so many options, it can be difficult to choose a railing system.   We want homeowners to be informed and receive the look and style they want in their rail system.  We also want you to understand the cost of maintenance in the components you select.  Archadeck of Central Georgia is experienced in helping homeowners choose the railing materials right for them.  Homeowners choosing to combine materials find our experience especially helpful.  Attractive railings designed to accent your deck will make it one that stands out from the others.