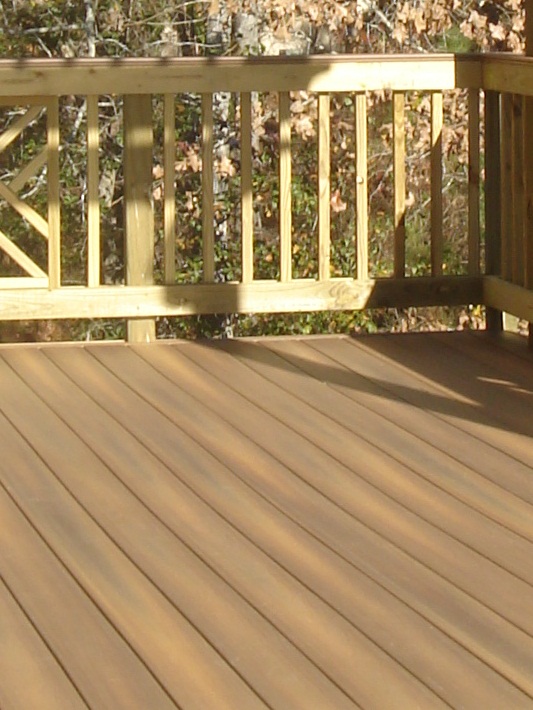 This Fiberon deck in River North mimics the color of Ipe without the maintenance and it is easier to clean than other composites. As an outdoor structure builder I use many synthetic decking brands. My customers always ask me which brand is best.  Each brand has its pro's and con's. Below is some information about 2 of the top brands we use.
AZEK vs. Fiberon
I drew a comparison on these brands because they're both strong high-performance, low-maintenance brands that are attractive to boot. Here are some of the differences. Fiberon is a composite with a PVC wrap which means the thermal density is higher so it may retain more heat than AZEK does. In the hottest part of the day, both brands will retain heat, but AZEK cools off faster. AZEK is a full PVC product that does not contain any wood fibers. Wood fibers can cause a product to retain moisture and swell causing expansion and contraction. A good example of a structure that would be best suited to build from AZEK is a dock. Since Fiberon is a capped product it has exposed ends where the water from a dock or other structure can penetrate the ends and cause the decking boards to expand. This is only a concern if the material is going to be submerged or will be heavily exposed to water for long periods of time.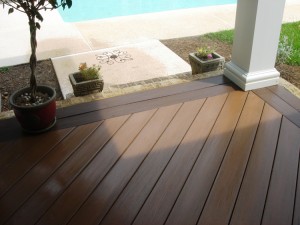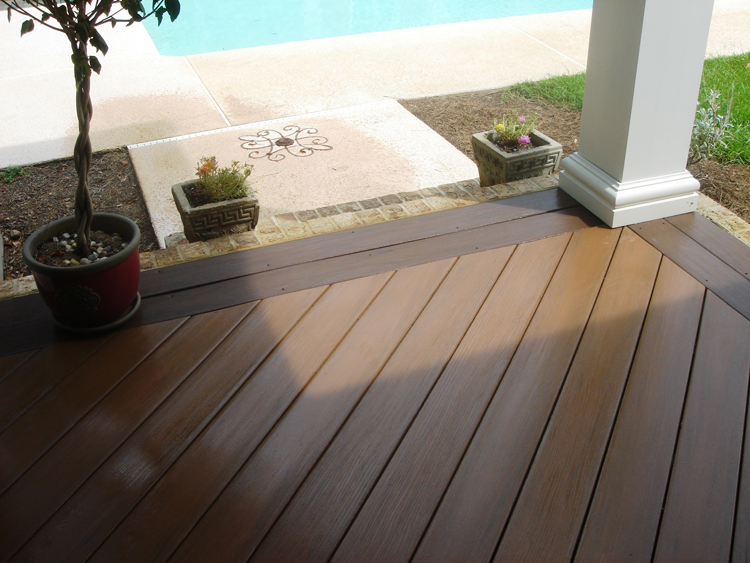 Each manufacturer has a wide variety of colors and patterns. Our local distributor carries the most popular color options. Fiberon popular colors include Ipe, Rosewood and Gray Birch. Among the most popular AZEK colors are Morado, Acacia, Cobre, and Tahoe (which is a gray). AZEK also comes in a white that is often used on rail caps.
Beauty is in the eye of the beholder
All of today's composites simulate the undulation, streaking and graining of natural wood to some degree. The methodology behind achieving this true-to-life look of wood is different with each brand. The wood grain pattern apparent on AZEK is indented. The Fiberon pattern uses a raised pattern to achieve undulation and graining. Fiberon contains more streaking, which mimics the look of tropical hardwoods such as Ipe.
Though both AZEK and Fiberon are low-maintenance and stain resistant, Fiberon is often easier to keep clean. Cleaning AZEK requires more work to get down into the grooves where the dirt can gather. Fiberon also offers an economy-grade composite that is PVC on only one side and offers some of the same benefits of traditional Fiberon. This makes a great alternative to homeowners that are on a set budget but still want a quality low-maintenance decking product.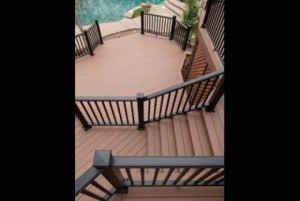 In closing, keep in mind there is no perfect decking that will be all things to all homeowners. Individual opinions and needs will determine which decking choice is right for you. Since most of the low-maintenance brands have very similar features and benefits, aesthetics are often the determining factor.
Contact Archadeck of Central Georgia to learn more about Fiberon and AZEK and which choice is right for your new outdoor living structure. We offer many other decking choices such as hardwood and traditional pressure treated wood as well. Call us for a free consultation today (478) 745 – 2000 or email us at
centralgeorgia@archadeck.net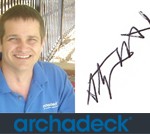 .
See more examples of low-maintenance decks by visiting our composite, vinyl and PVC deck gallery located on our website.