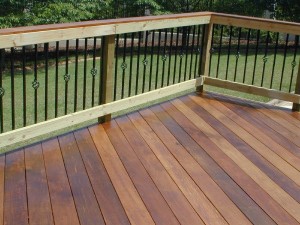 Out of all the materials available nowadays to use in building your outdoor structure, Ipe is among the strongest and most beautiful. Ipe comes from South America and is classified as an exotic hardwood. Ipe's, rich, dark tone varies from board to board giving it an exotic look. The real advantage to using Ipe is its density and strength which make it a solid material to use on decks, porches and other outdoor structures.
Ipe is dense enough that it sinks in water. Its density requires that it be pre-drilled in order to be fastened. When fastening an Ipe deck we use stainless steel screws called head coat screws, which are brown to blend seamlessly with the decking itself. The ends of the Ipe boards need to be treated when they are cut during installation to avoid cracking. If you are dealing with a contractor that is not familiar with working with ipe then you usually end up with split ends from not treating the ends of the boards. Ipe is so dense that it doesn't absorb much water which results in a lack of the normal expansion and contraction that are seen with other wooden decks.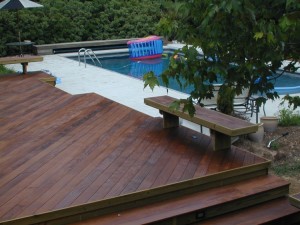 Ipe is real wood, so it does require maintenance. It ages at about 1/10th the rate a normal pressure-treated wood deck does. But since it is wood, it can absorb enough moisture to cause cupping, splitting and warping over a long period of time. In order to maintain the beauty and life of your Ipe outdoor structure, we recommend applying an oil or sealer twice during the first year of installation and repeat this on an annual basis to maintain the deep, rich color. If you do skip a few years, you can pressure wash it and apply sealer which will cause it to revert back to its original color. The cost on an Ipe outdoor structure project is comparable to composite, PVC and synthetic materials.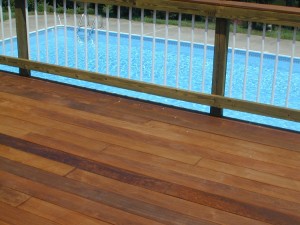 You may have noticed Ipe wood used at commercial venues. It was used by some of the Walt Disney Parks as the primary material for many of their bridges and boardwalk constructions. It is also used at the New Jersey boardwalk. Ipe also works great on docks and outdoor structures in close proximity to water features such as pools and spas for its resiliency near water. Because of the life span, strength, and durability of Ipe, it's a great choice for commercial as well as residential applications.
When we use Ipe on a deck railing, we will often use pressure-treated wood rails with Ipe caps. The combination works very well when the pressure-treated wood is stained with Cabot's Jarrah brown stain that perfectly mimic the look of Ipe. On the Ipe itself we use natural Australian timber oil to keep it in tip-top shape from the beginning.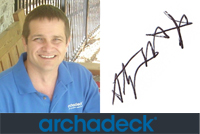 If you are ready to transform your backyard space by adding the tropical beauty of Ipe Brazilian hardwoods, contact Archadeck of Central Georgia to assist you in your outdoor structure choice that best suits your needs and lifestyle. Call for a free consultation:  (478) 745 – 2000 Email: centralgeorgia@archadeck.net
See more beautiful hardwood decks, including Ipe decks by visiting our wooden deck gallery located on our website.