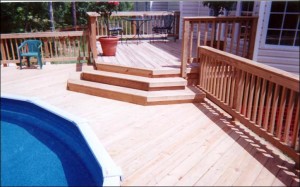 Warmer days are just around the corner and now is the time of year when many Central Georgia homeowners are starting to plan the addition of a new pool or planning to update their pool area. Archadeck of Central GA explores some of the choices for turning your poolside area into pure paradise!
The first element to consider is whether you have or will have an in ground or above ground pool. Above ground pools are generally less expensive to install, but they are not nearly as big as an in ground pool. If you decide to build a deck space to encompass the entire area around an above-ground pool, the costs can rapidly increase  making the combined cost of pool and deck more expensive than an in ground pool.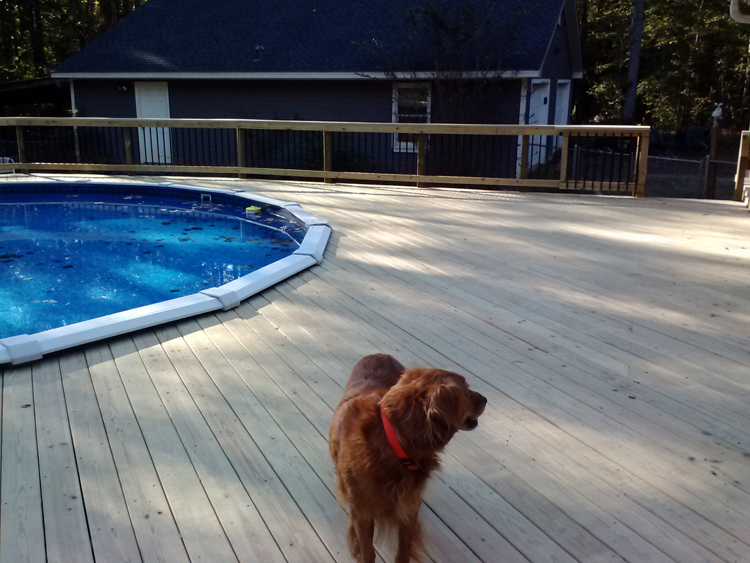 The topography of your backyard may determine the type of pool you have as well. If the yard is sloped and grading is not financially feasible, then an above ground fiberglass pool may be the answer. A deck is typically the only way to provide usable space here.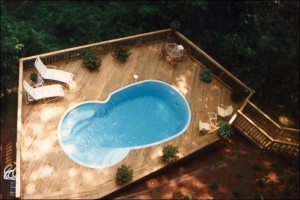 These are important considerations when looking at the "big picture" with your anticipated outdoor living pool area.
When choosing an in ground pool, the most common construction for the space around is concrete. Usually a pool contractor will recommend using a product like Kool Deck. This is a thin coating that goes over the top of the surface of the concrete to keep it cool on your feet. The problem is that it doesn't adhere to the cement well and will eventually come off. There are two problems with all concrete: it cracks and it cracks! When water  gets in these cracks it then gets underneath the Kool Deck. All it takes is a freeze to cause the Kool Deck to pop loose. Archadeck of Central GA offers a better alternative that will increase the beauty and function of your poolside area for years to come.
Take a look at this paver patio we built in Warner Robins. This poolside area also includes a custom-built fire pit to match the pavers, an open porch, and a full outdoor kitchen.
We recommend adding concrete pavers around your pool. They are frequently used for pool decks and are durable, versatile, affordable and tough. Pavers have many qualities making them the perfect choice around a pool. They are salt resistant, slip resistant, and chlorine will not affect their colors. The joints between pavers will take on moisture and leave the pavement cooler under foot.  However, like any colored material, the darker colors tend to retain more heat than lighter colors. Another advantage of using pavers is that even in the event of a paver breaking, it's easily replaceable. There are tons of styles and colors of pavers to choose from expanding the choices of the look you wish to achieve. Adding pavers is easy to do when your pool is under construction. If you already have a concrete pool surround, we can install pavers atop the concrete. We can use thin pavers which cost less or the standard 2-3/4 inch paver.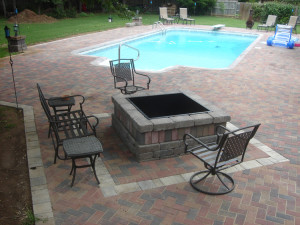 Here are some options to increase your pool-side enjoyment. If you already have a space that's just too small, you can add a patio or expand the space around your pool to add more outdoor living enjoyment. This may include adding a pergola or a porch roof for use as a poolside shade structure. An open porch is a great poolside option, and pergolas can be built to include sun screens or canopies atop. We can also build structures to mask the areas you don't want people to see and keep those areas  "incognito" such as pool pumps and other mechanics that aid in operating your pool. Archadeck of Central GA can also design and build versatile benches or retaining walls using paver walls that are made to match your paver flooring so your finished space is cohesive. In addition to the many amenities that we offer to create your perfect poolside paradise, we can also design a tranquil outdoor shower, outdoor fire feature or even a custom pool house– the possibilities are as endless as your imagination!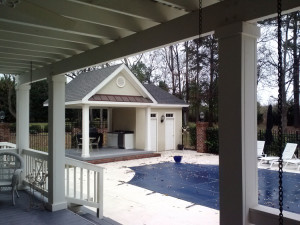 If you are planning a new backyard pool addition or improving and existing pool area contact us to help design a poolside space that will make the most out of your outdoor living space! We can work and coordinate with your pool contractor.
Call Archadeck of Central GA today for a free quote • (478) 745 – 2000 •
email: centralgeorgia@archadeck.net
See more poolside ideas by visiting our patio and hardscape photo gallery, our porches photo gallery and our pergola and trellis photo gallery located on our website.