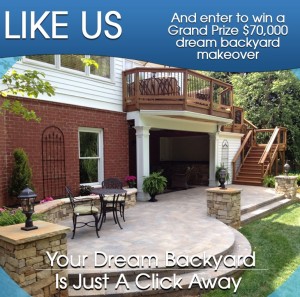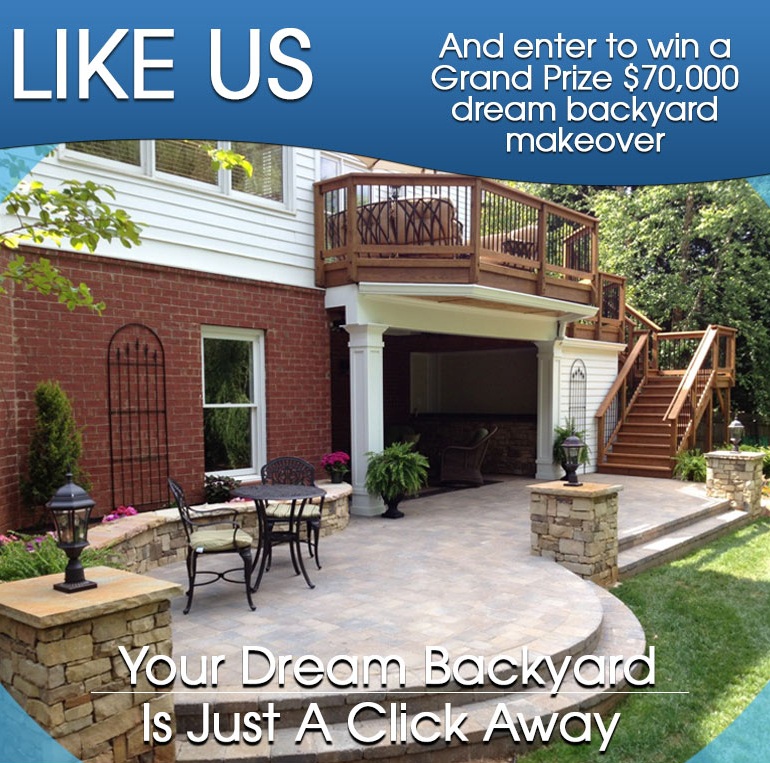 We are so excited to be offering a $70,000 Dream Backyard Makeover. The contest is already under way! In order to win, you must submit a picture of your yard and an overview of what your dream backyard makeover will include. One grand prize winner will receive an outdoor space valued at up to $70,000 co-sponsored by Archadeck,  TimberTech and  Belgard hardscapes. Here are some ideas to consider when deciding what your dream outdoor space will look like.
One great outdoor space combination includes a porch with an attached deck,  paver patio, and an outdoor kitchen. Imagine being able to grill, dine and enjoy the great outdoors any time you like in your own backyard.
If your dream backyard makeover entry includes a porch, you can include a screened porch or an open porch. Screened porches are great because they keep out bugs and keep out some of the water. Open porches have a roof but are open on the sides. This option is especially popular with an elevated porch since you may not need as much insect protection with an elevated porch.
If your dream backyard makeover space includes a deck, remember a deck is not always just a deck. Decks can include bump out spaces designed especially for a grill or smoker. Our custom deck designs can also incorporate built-in bench seating or planters. Your deck will include TimberTech low maintenance timbers.  TimberTech comes in a wide array of colors and pattern options. TimberTech has decking to suit any taste, from streaking and veining that mimics the look of real wood to sophisticated patterning to give your dream deck a custom look. You can even use a combination of hues by adding a picture frame border or other patterning techniques to give your new space drama.
When you visualize your dream hardscape, here are some hardscape elements to consider including. You may want your hardscape patio to include retaining walls, a fire pit, and even an outdoor kitchen. Belgard is the leader among hardscapes. Their huge selection allows you to create a space that is as rustic, or as modern as you like.
Archadeck of Central Georgia urges you to dream big for this amazing one of a kind contest. Your idea of what would make the ideal backyard for you may just win you the ultimate outdoor space. To enter the contest, visit the Archadeck of Central Georgia Facebook page and hit "like". Then click on the large blue button that says "Win a Backyard…" This brings you one step closer to becoming one of our lucky finalists and one step closer to making your backyard dream a reality!
You can learn more about all of our breathtaking outdoor spaces by contacting Archadeck of Central GA. You can also see more examples of outdoor living combinations that deliver maximum function and beauty by visiting our deck galleries, our porch galleries and our outdoor living galleries located on our website.