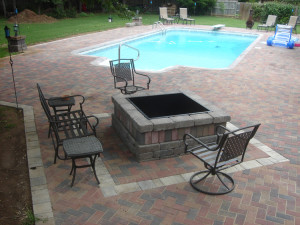 Are you considering an outdoor space this summer?  Perhaps, you have one and want to add to it?  If so, you will want to consider making that space work with your home.  You don't need to match the material with which your home is made.  Perhaps you want a complimentary look to highlight both your home and your new outdoor space.
Patio Materials:
There are several material options available for creating a patio.  In the past, concrete was one of the few options available.  It was chosen for its durability and low cost.  Homeowners are finding out that pavers and modular components used with pavers can provide many more features than concrete.  Pavers have a lower cost of maintenance over time and add flexibility in extending patios or adding modular components to them like fireplaces.
When considering making any addition to your home, it's important to think about the life span of the addition and also the short-term and long term maintenance. With patios, no matter how well the ground is prepared initially for pavers or concrete, further settling can sometimes result.  Unlike concrete, pavers can be reused after the ground is prepared.  Pavers can be removed individually and the ground can be leveled and compacted again.  Once completed, the same pavers are placed again in the prepared area.  Pavers that crack can be replaced individually, thereby reducing cost.
When concrete settles, it will crack depending on the amount of settling.  The ground can't be repaired under concrete unless the concrete is removed.  When replaced, the new concrete will likely not look exactly like the existing concrete in the surrounding area.
If settling drainage is an issue with pavers, the ability to remove and fix ground issues is another advantage.  When concrete has a drainage issue, it must be lived with or the concrete must be completely replaced in order to correct the issue.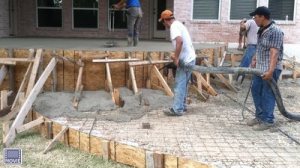 In addition to considering long range issues with your new space, you also want to consider unavoidable construction disruption to your yard. If you choose concrete, concrete trucks are heavy and need to get right next to the work area to pour.  Tire ruts can be created in lawns and at the work site.  If the work site is away from a paved road or driveway, it may need to be pumped by a second truck to the work area (behind the house, on an inaccessible side of the yard, etc.) which can double the expense of the concrete.  Likewise, if you choose pavers,  trucks will need to deliver gravel and sand. The farther away from the work area these materials are dumped the more "wheelbarrow" labor you will incur. These are all considerations when planning to build.
Occasionally, homeowners who like the look of stone pavers will use stamped concrete to emulate a stone pattern or a paver pattern. While this does provide a cost advantage, it's not always possible for a faux technique to look exactly like what it's trying to emulate. In simpler terms, the only thing that will look exactly like a stone patio or a paver patio is a stone patio or paver patio.
The Size and Areas of Your Patio:
If the site where you want your patio is not level, you may think you are limited to a small area.  If the site is too small, you may feel you may not get the function you are looking for in creating you outdoor area.  That doesn't have to be true, especially with pavers.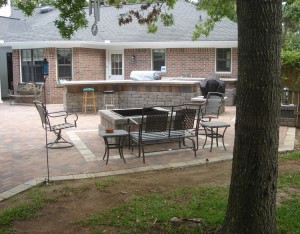 Designing a patio with different levels may add to the function of your outdoor space in ways you haven't imagined.  Creating a casual seating space for conversation and relaxation on one level and an eating area on another is just one example.  Hardscapes can now serve several functions, similar to the different rooms in our homes.
In a multi-level space, again pavers shine.  Being smaller and using pavers with various purposes, the color and design of a flat or multi-level patio will look artfully designed.  Steps, walls, sitting walls, modular components like fireplaces, etc. will all have the same look and texture.
What are your choices if you want to build only one level of your outdoor space today?  What choices do you have if you choose to expand an existing flat patio later?  Pavers are a good choice in both situations.  Pavers can be matched years later so that the color and texture are the same.  When it comes to recognizing that it's an addition, no one will be the wiser.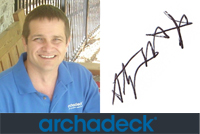 If you are considering creating a great new outdoor living space for your Macon/Warner Robins area back yard, or if you want to give a fresh new look to your existing backyard space, give us a call for a free consultation. Together we will work to identify the best structures and materials to create the perfect outdoor living space just for you.
Call: (478) 745 – 2000
Email: centralgeorgia@archadeck.net
Visit the patio and hardscape photo gallery on our website for more great design ideas and inspiration