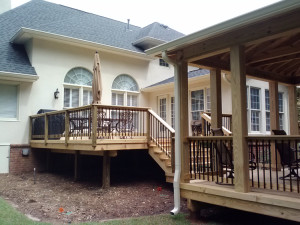 Are you considering adding an open porch to your Macon area home? Open porches actually have a number of names including covered porch, covered patio, and pavilion. Like any porch, there are different places in your backyard for your porch. Not only can you connect it to various different sections across the back of your home, but you can also have a free-standing porch which is often called a pavilion. The name pavilion may bring to mind images of a structure that sits alongside a pool. But that is certainly not always the case.
These Macon GA homeowners in the Barrington Hall community were looking to add a covered space to their existing deck. Based on the roof lines and windows on the back of their home, attaching a porch was going to be a little bit of a challenge. The family had an existing deck and knew they wanted to add an outdoor space with a roof to get some relief from this hot GA sun. An open porch, or pavilion, was the perfect space. This allowed them to enjoy their existing deck when it was not as sunny and enjoy the pavilion to escape that hot GA heat.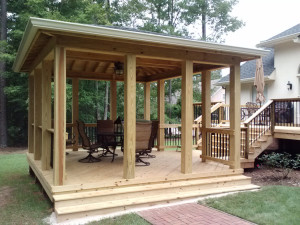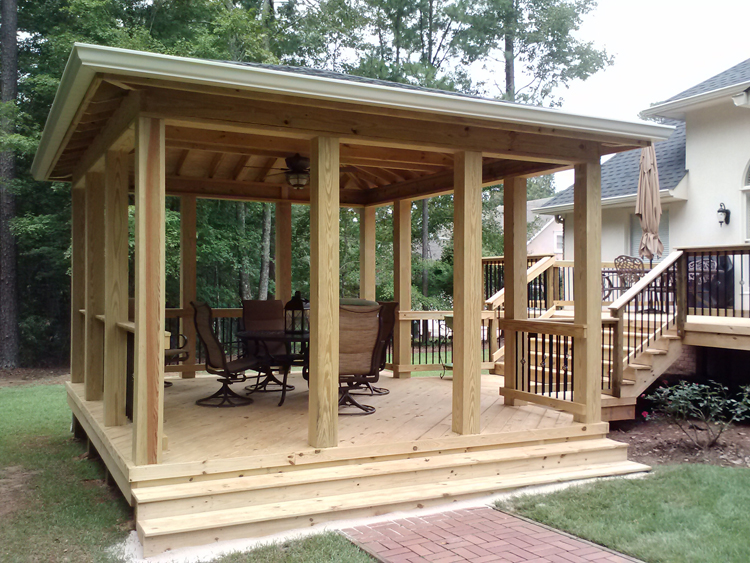 This pavilion was really designed for easy living. Not only is there ample room for a large table and chairs, every little detail was attended to including having covered gutters for ease of maintenance. From a design perspective, the design details make for not only a beautiful open porch, but one that also blends beautifully with their existing deck and home.
The open porch has pressure-treated wood flooring to match the deck. The flooring is run on a diagonal for visual appeal and for a more custom look. In addition, the porch railings have complimentary thin profile black pickets. To compliment the existing home, the open porch has a low sloping hip roof. The pavilion attaches to the deck for ease of moving from one outdoor living space to the other. To create a stately look, 8 x 8 laminated Cox posts were used.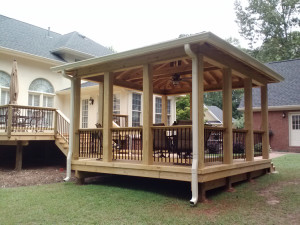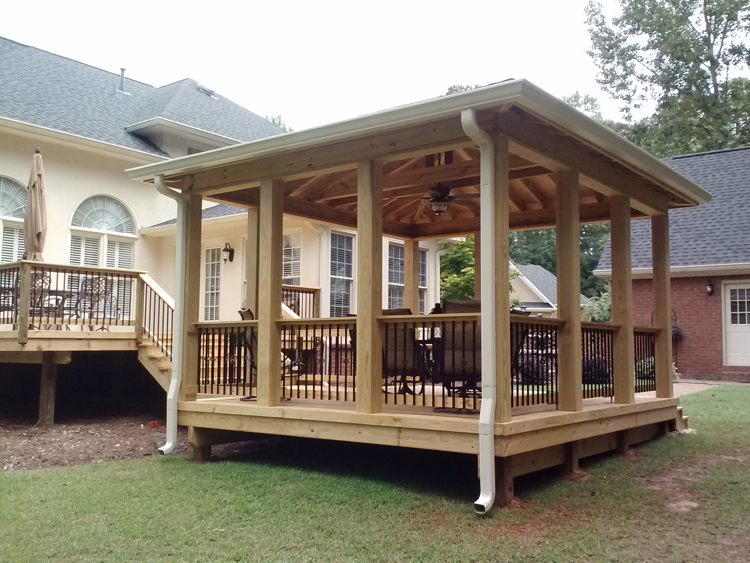 To answer the title question of whether an attached porch or freestanding porch is better; you guessed it, it depends. Often the layout of windows and rooflines on the back of the home dictate where there porch will attach nicely and also whether there is an obvious location for attaching a porch. This is the case when the windows cover the area where you were thinking about adding your porch. It also depends on the roof lines and whether they make it difficult to add a roof structure. In this case, we were able to provide the homeowner with a plan for both an attached porch and a freestanding pavilion. You can see how beautifully it turned out.
If you are considering creating a great new outdoor living space for your Macon/Warner Robins area back yard, or if you want to give a fresh new look to your existing backyard space, give us a call for a free consultation. Together we will work to identify the best structures and materials to create the perfect outdoor living space just for you.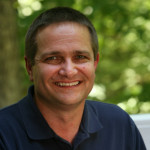 Stephen Denton
Owner, Archadeck of Central GA
Call: (478) 745 – 2000
Email: centralgeorgia@archadeck.net
Visit the screened porch photo gallery on our website for more great design