When Macon area residents call about adding a new outdoor space to their yard, sometimes they know exactly what they want and sometimes they have an idea but look forward to the process of seeing that idea translated to the perfect outdoor space.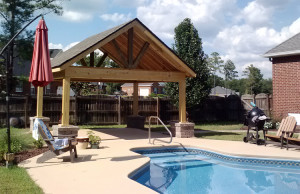 These Macon homeowners not only knew what they wanted but they knew several years ago. In fact, they even secured approval from the HOA several years prior. Now they were ready to have their pool pavilion built. Many pool owners want a shaded area near their pool. But, they wouldn't be pool owners if they didn't enjoy a huge splash of direct sunlight. That's why an open pavilion or open porch is the perfect space for them. The roof allows for sun protection but the open gable still allows plenty of light under their covered space.
When we originally met with the homeowners, there was only one thing we suggested changing about their original building plan. The plan called for the open gable end facing away from the pool. Based on the sun's direction and the beauty of the open gable, it made the most sense to have the open gable addressing the pool. Note the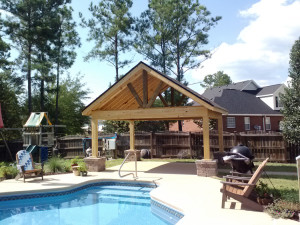 additional braces on the open gable. These were not required structurally but really gave that added design detail the homeowners were looking for.
From an aesthetic standpoint, we encased the footers of each of the columns with paver stones to create pedestals for each post. For the posts, we used Cox laminated timber columns. These wide columns allow plenty of space to thread wire through bringing electricity to the structure for lighting, ceiling fans, and to create electrical outlets as desired.
This Macon family couldn't be happier with their new pavilion. It took a few years to be ready to build but it was well worth it.
If you have a great new outdoor space in mind, give us a call. We're glad to provide a free consultation to determine the best structures and design to meet your outdoor living needs and desires. Call us at (478) 745 – 2000, email us at  centralgeorgia@archadeck.net or visit our website at central-georgia.archadeck.com.