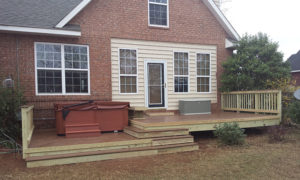 Take a look at this new deck in Perry GA. At first glance, you may notice the unique railing configuration that allows an open Zen-like feel as the family traverses from the back door, onto the deck and into the backyard. This may be an option for your new deck depending on the height of the deck and the building code in your local jurisdiction.  In most jurisdictions, if the deck is under 36″, a railing is not required. This family chose railings on the side for privacy but otherwise opted to go railing-free.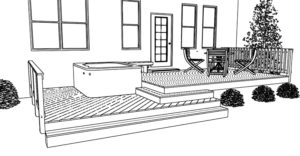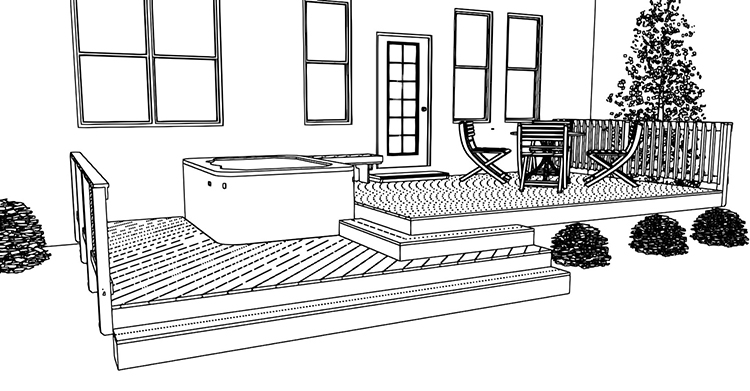 This deck has an additional and very important owner — the family dog! Through the back door, the dog frequents the back yard during the day. Our construction crew wanted to minimize the inconvenience for the dog so they put the deck flooring on right away to minimize disruption for their "other" family member.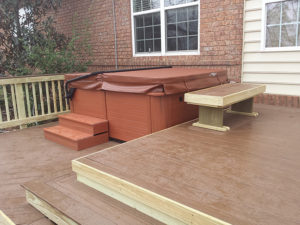 This new two-level deck has an integrated hot tub. If entry and exit were ever important, they are super important with a hot tub. For many people, climbing up and climbing down can be trouble. This can certainly be the case when homeowners use the spa to help with joint discomfort or therapy. The built-in bench not only makes this task easy but is also a great place to store towels, robes and even beverages.
If you are considering the addition of a hot tub to your deck, whether you intend to build a new deck or add a space large enough to place a hot tub, we can help. Our unique deck designs and expert craftsmanship will have you soaking up in style and safety. Contact Archadeck of Central Georgia today. Call for a free consultation:
(478) 745 – 2000 Email: centralgeorgia@archadeck.net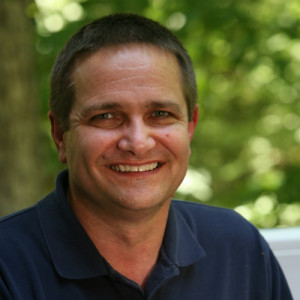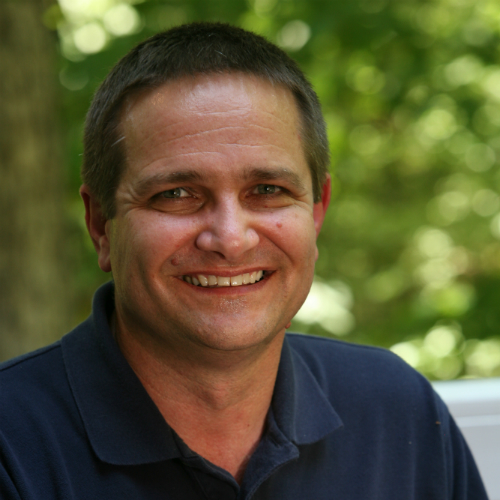 See more stylish hot tub and pool decks by visiting our decks photo galleries located on our website.