In addition to being the beginning of the summer season, May is nation Deck Safety Month. This is a good time to consider whether your deck is safe of whether it may be time to make some updates to make it safer or get your deck up to code.
Here are the top 6 things to inspect to determine whether your Central GA deck is safe for your family and guests as y'all spend a lot of time outdoors this summer.  You'll remember not too long ago when we posted the blog about the deck you see below. When those homeowners called us to replace their deck, it was obvious that the deck was unsafe since it moved when they stepped foot on it.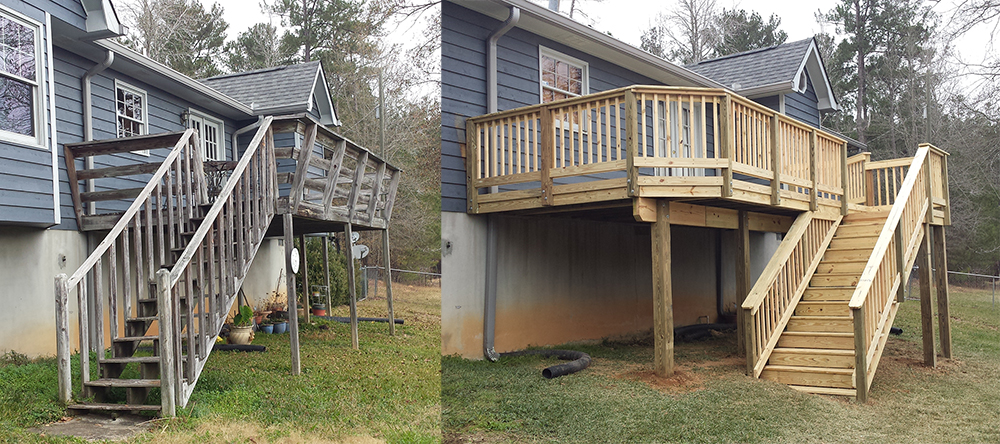 If your deck has structural issues, it may not be as apparent so we want to provide some things to inspect on your own.
Does the deck move?

Do the stairs move?

Does the railing move?

Are the support beams cracked or degrading?

Are nails or screws used as fasteners

When looking at the connection to your home, are bolts or nailed used to attach to your home?
The first 3 questions seem obvious. If your deck clearly and easily moves when you step on it, then it obviously is time for a new deck. And, it's time to do that quickly.  Just because your deck doesn't easily move or sway when you step on it doesn't mean that it's safe. Here are a couple things to try to ensure deck safety.
Pick a couple spots on your deck and jump on those spots. You should not feel movement left to right or even up and down. If there is give in the boards as you jump up and down, the joists may not be close enough to meet code or to support the weight of the deck board. You shouldn't feel any swaying nor give in the boards.
Then head over to the railing. Grab on with both hands and try to move it left to right as well as forward and back. Does it move? If your railing is attached correctly, it will not move when you push or pull on it. If you have movement, it's time to call in an expert to diagnose whether there are some minor updates to secure the railing or whether the railing needs major updates to become safe and secure.
Next, move to your stairs. Stand squarely on a stair half way down, grab both railings and try to move from side to side. Neither your railings nor your stairs should have any movement side to side. Then, if you feel comfortably balanced, jump a couple times on an individual step and see if there is spring or give on any of the stairs themselves.
Take a look at the deck boards and how they are attached to each other and to the joists. Are nails or screws used to attach the decking boards? If you see evidence of nails being used instead of screws, there may be some vulnerability.
Below deck!
After checking out what can be seen from the deck, step around and under your deck. Take a look at the support beams. Are any of them cracked or twisted? Do you notice any evidence of infestation from termites? Are the supports solid and immovable? If you try to move a support post, do you see any give in the area where the post connects to the footing?
Finally, if you can walk under your deck to the area where the deck is attached to the house, take a look at the attachment. What hardware is used? Heavy duty bolts must be used to attach the deck to your home. If you see nails or even screws, your deck may be unsafe.
A few years ago, we were interviewed about deck safety by a local radio station. Here is some great information about evaluating the safety of your deck.
We encourage you to give us a call to discuss any concerns you may have with your deck's structure and safety. We have not only built hundreds of decks throughout the Central GA area but we have also repaired and re-decked many decks.
Re-decking is a popular option. This allows you to replace the decking boards. Many Central GA homeowners want to upgrade to low maintenance decking or railing. Most often we can upgrade the decking or railing utilizing the existing sub-structure. If there are some stability issues, we should be able to fix those issues at that time ensuring to bring your deck up to code.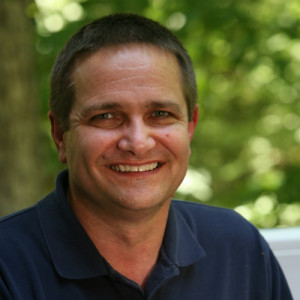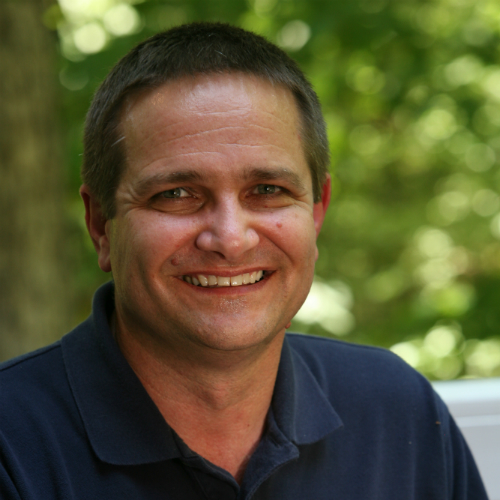 If you are ready to learn more about how we can enhance your outdoor living at your home, contact Archadeck of Central GA today (478) 745 – 2000 or visit our website at  centralgeorgia@archadeck.net