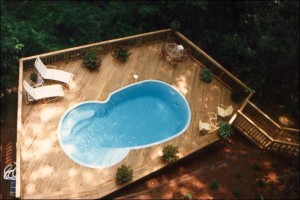 Are you looking at adding a pool to your Macon Warner Robins area home this summer? Or, do you have an existing pool and you're thinking of updating the surround? There are several choices available when it comes to pool surrounds and these have varying prices, pros and cons. Here are a couple of the top options available.
Wood
Concrete
Pavers
Wood
If you have an above-ground pool or a pool where the grade differs significantly from one end of the pool to the other, then your only viable option is a wood deck. That being said, there are many different wood deck options for pools. These can be as simple as a surround for walking or can include attached structures such as a deck, pergola, or even pool-specific structures. Pool-specific structures can include an enclosed area for pool equipment, a changing area, or even an outdoor shower.
If you're wondering whether it's wide to use wood in a wet environment, it's a great material for a wet environment. We all remember the pool decks of our childhood. But while those old wooden decks held the constant risk of splinters and other signs of aging wood, today's wood decks are built using treated wood that better seals the wood to keep it from splintering. In addition to pressure-treated wood, exotic wood such as Ipe Brazilian hardwood makes for a great decking material as you see in the picture to the left. Ipe is a very dense exotic hardwood. It's so dense that screw holes need to be pre-drilled. The upside is that Ipe lasts anywhere from 40 to 100 years). The more dense material makes it even more impervious to signs of wood aging such as cupping, warping, cracking, and splitting.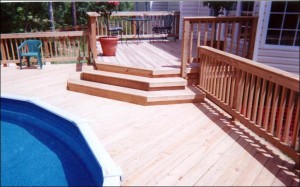 Synthetic, composite, and PVC for pool surrounds
Whether you have an above-ground pool or an in-ground pool, synthetic materials are a great choice for your pool deck and adjoining pool structures. Both composite and PVC fall in the category of synthetics. This decking can be warrantied for 25 years or longer thus giving you the ultimate peace of mind. Not only are they low maintenance (not requiring annual painting or staining) but they also have strong warranties on their performance characteristics. These warranties protect against things like blistering, peeling, flaking, cracking, splitting, cupping, rotting and more.
If you have an in-ground pool or a pool that is very low to the ground, you can still use composites such as TimberTech, Fiberon or AZEK. Fiberon and TimberTech composites only require 6 inches of space below for ventilation and airflow. AZEK's PVC board is only required to not be touching the ground.
Concrete
is a very viable solution but will create a greater need for maintenance more quickly than other materials." to "It is a very viable solution, but concrete coatings will create a greater need for maintenance quicker than other materials. See our blog at http://maconwarnerrobinsdecksandpatios.com/archives/2544 for details.
Paver patio
"We will be talking more about paver patios in our story for next week. Paver patios are a great option for a pool surround. They look great. They're low maintenance. When properly installed, paver structures can last centuries even around a pool. Don't believe me? Take a trip to Venice Italy? Look for next week's story for more details on pavers patios verses concrete patios."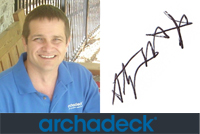 If you are considering creating a great new outdoor living space for your Macon/Warner Robins area back yard, or if you want to give a fresh new look to your existing backyard space, give us a call for a free consultation. Together we will work to identify the best structures and materials to create the perfect outdoor living space just for you.
Call: (478) 745 – 2000
Email: centralgeorgia@archadeck.net
Visit the pool deck photo gallery on our website for more great design ideas and inspiration