When these homeowners on Ashford Park in Macon called us, they were very familiar with having an Archadeck screened porch. Back int he 90's their home had a porch built by Archadeck. At this home, they had a large deck but they always wanted a screened porch. We're glad they gave us a call for a few reasons.
First, we always love working with happy Archadeck customers. These homeowners knew what to expect with the Archadeck process and knew the high building standards we require.
We're happy they called Archadeck of Central GA because we pride ourselves in doing the best thing for our customers. When converting an existing deck to a porch or other roof structure, sometimes the deck substructure will suffice for adding a new roof with a few reinforcements. That was exactly the case here. We did add reinforcements around the exterior but we were otherwise able to utilize the existing structure. We replaced the flooring with new flooring and made sure to add screening underneath the boards to keep bugs from crawling up through the floor.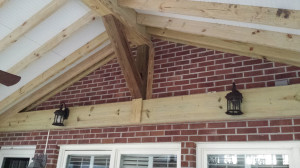 We were very happy that we have the support of our national Archadeck drafting team. Here's why. Roofs can either be attached to another roof or to a house wall. This porch required a side wall connection however we were not able to add posts  to the wall because they would cover windows. Instead, our architectural team designed the long span roof to be supported by a large structural ridge beam.
Another point of pride we maintain at Archadeck of Central GA is the level of care we take with the homeowners' properties. It rained quite a bit while we were building. We took particular care to keep pine straw in the yard for minimal disruption to their grass.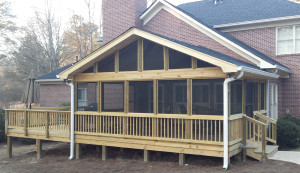 Adjacent to their porch is a new deck large enough to host a grill as well as a table and chairs. The deck materials are complimentary to those of the screened porch making a unified look and feel to this combination structure.
If you live in the Central GA are and are thinking about adding on or converting your outdoor living space to a porch, give us a call for a free consultation. If you choose to work with us, you will benefit from our extensive knowledge of local building trends and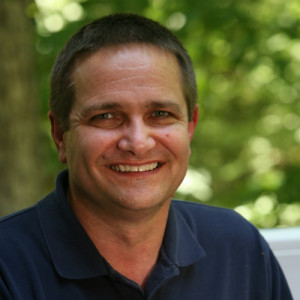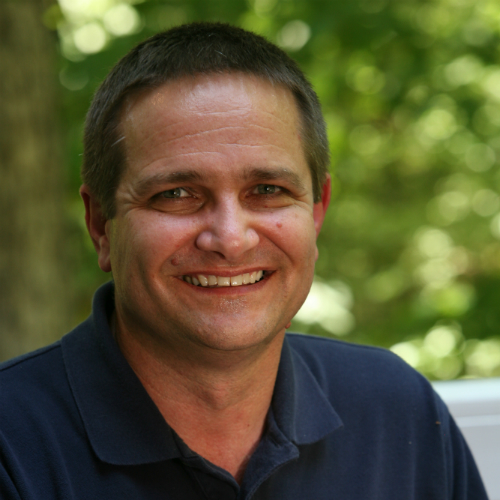 traditions, as well as our rock-solid relationships with other local tradesmen. Check out our reviews and reputation in the community. We are happy to provide you with references for any kind of job you are considering. Call: (478) 745 – 2000. Email: centralgeorgia@archadeck.net. Or visit our website http://central-georgia.archadeck.com/