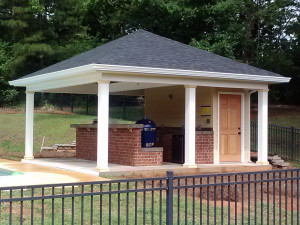 Take a look at this incredible custom pool pavilion in Macon. This custom built pavilion was designed specifically for how this Macon family wanted to live outside.
The family had a lovely pool and patio but knew they wanted to do a lot more living outside. They wanted to cook outside, prepare food in a smoker, watch TV, and lounge in style. They also had a specific need for storage. This Macon pool pavilion was built to suit all their needs and wants.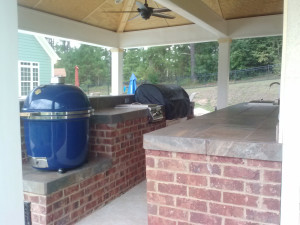 In the picture above, you likely noticed the beautiful hip roof. From within the porch, the roof creates a cathedral ceiling. This provides cover for the space but still creates a very bright and airy feel. The ceiling is finished with recessed can lights and large ceiling fans to keep air circulating within the space.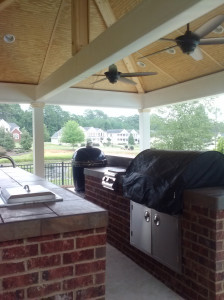 Inside the pavilion you'll see tons of counter top area creating space for everything from grilling to food prep to using the smoker, and more.
The 2 bar areas also house food storage areas and an outdoor refrigerator.
One important part of this project that you won't notice by looking at the space is the approval we needed to secure from the Architectural Review Board in this lovely Madison community in Macon. While we always take care of all permitting, we also meet with other review boards as necessary before beginning our projects.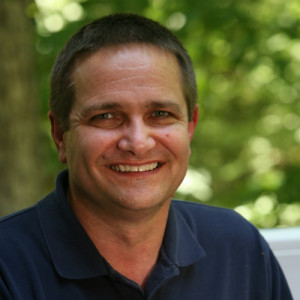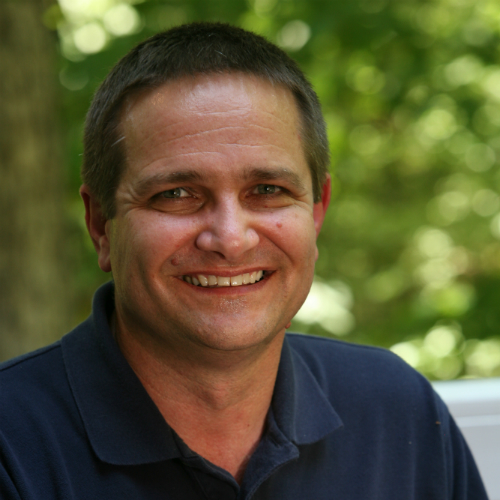 If you are considering adding a deck, porch, pergola or other outdoor living space to your home give Archadeck of Central GA a call for a free consultation. If you choose to work with us, you will benefit from our extensive knowledge of local building trends and traditions, as well as our rock-solid relationships with other local tradesmen. Check out our reviews and reputation in the community. We are happy to provide you with references for any kind of job you are considering. Call: (478) 745 – 2000. Email: centralgeorgia@archadeck.net. Or visit our website http://central-georgia.archadeck.com/