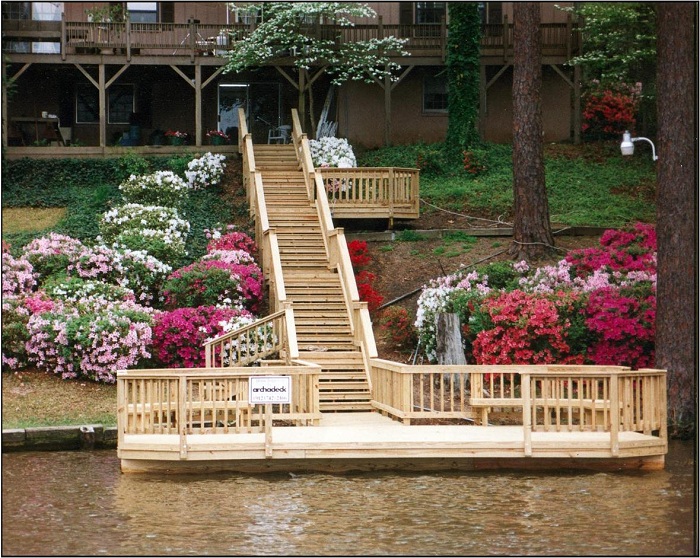 Here in Central Georgia we are fortunate enough to have some of the most beautiful natural settings in the south. Adding to that beauty is the large number of Lakes we have access to in the area. Several lake communities call Central GA home including Eagle Springs Lake, Lake Oconee, Lake Sinclair, Lake Houston and Lake Tobesofkee. Many residents opt to make one of the lakes their home, whether as a primary residence or a weekend home. We have been commissioned to build several docks at lake-home communities here in Central GA.
Right now Archadeck of Central GA is building a dock for some Eagle Springs residents in Warner Robins, GA.  By building a number of docks in the area we are familiar with the codes and requirements for constructing a dock in Georgia. The most important aspect of building a dock is the fact that in order to properly set the posts the water level of the lake needs to be down. This fluctuates with the varying amounts of rainfall. Since most lakes in the area are governed by Georgia Power, the amount of water that passes through the dam needed for the generation of electricity also influences the water levels. During certain times the water levels may be lowered when drawdowns are scheduled for maintenance of the dams and government mandated flow limits. You can find out the lake levels for those governed by GP by visiting http://lakes.southernco.com/. We also monitor the lake levels so that we can find an opportune time to begin construction on your dock, and schedule your project accordingly.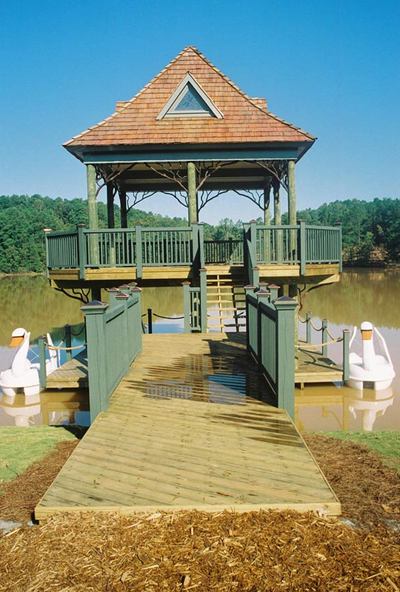 When homeowners decide they want a dock we try to work the construction around fluctuating lake levels, this is important in order to properly set the footings on a new dock. We typically use pressure treated framing materials and posts to build the dock, but you can use a composite material or Ipe as well. PVC is the composite we would recommend if considering using one because it withstands exposure to the water really well. Pressure treated wood will take a beating with the constant exposure to water and will need to be treated annually. Ipe is beautiful but is prone to cup, warp and split even though it ages 10 times slower than pressure treated pine. Inevitably in 10 years the Ipe will look the same as pressure treated does after one year. If you use wood in this close proximity to the water, it will require maintenance more frequently than a normal deck or porch would. When we build a dock we often build stairs descending down to the dock and we also make sure your dock is set at the right point off the water.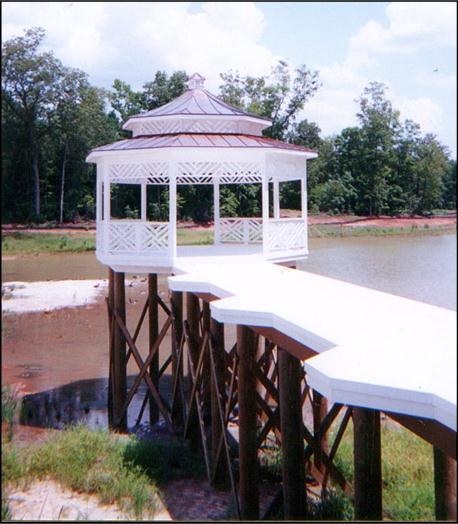 If time is of the essence and the lake levels are not where they need to be to ensure proper post installation you may choose to build a floating dock. These are constructed atop plastic pontoons which float on the water's surface and are always at the same height. This would also make an easy project that you could enjoy while awaiting proper water levels to build a full-on dock. No matter what type of dock you choose to build, lakes that are controlled by Georgia Power have code requirements for building docks, boathouses, or any structure that is built on the lake itself. It is important to know what your county or individual governing body allows. If you know that GA power governs the lake you are on, you can consult your Shoreline Management Guidelines provided by Georgia Power Lakes to view the rules and regulations that could affect your dock construction. All docks require a permit, and we take care of that for you as part of your building package.
If you have a lakefront or lakeside home that would benefit from a dock , contact Archadeck of Central Georgia. We can plan, design, build and schedule your dock in accordance with water level shifts and give you a dock that is sound, and beautiful. What better way to enjoy living by one of Georgia's most relaxing and beautiful assets. We can make everyday like a vacation for you and your family with a dock.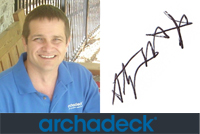 Call for a free consultation: (478) 745 – 2000
email:centralgeorgia@archadeck.net