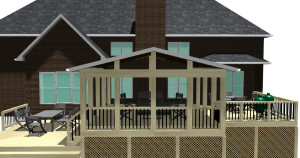 We suspect that only few of our readers will be familiar with Beyonce but if you've heard one of her songs, a particular repeating lyric comes to mind. Beyonce's song says "if you liked it then you should have put a ring on it". These homeowners had previously wanted and still wanted an attached open porch for their backyard entertaining area. Not only did the previous home owner not find a builder who could put a roof on it, neither did any contractors the new homeowners contacted for round 2. The homeowners wanted a large open porch with the porch roof attached to the house. This would allow them to walk out from the house under cover of the roof. It also provided more space for them to enjoy a light rain while under the cover of the roof.
Sometimes, the architecture of the back of the home makes it very difficult to figure out how to attach a roof. Many custom homes here in Macon and throughout the Central GA area have a number of different architectural reliefs as this home has. As you can see in the picture, multiple roof lines and a chimney adorned the back facade of this home making it a challenge but certainly not an insurmountable one.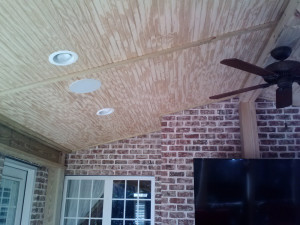 An important thing to remember is if one contractor tells you it's not possible, there is a better contractor out there that will not only identify the solution but be able to build it with ease and experience. You can see from the photo to the left that the roof connection was anything but square. The roof had to wrap around the chimney and work around two additional roof lines. The entire roof also had to be low enough that it did not impede on the upper level windows.
In their first go round with this space, the previous builder was not able to figure out this sticky roof connection so he suggested and built a gazebo-style roof that did not connect to the home. The first go round also included 2 deck areas. The homeowners liked having multiple connected outdoor living areas. When creating a space with multiple areas, it's important to think about how you are going to use each space. Will you use that particular space for eating and the other space for soaking up some sun? Based on how they were going to use the space, we enlarged the covered patio space and made one of the deck areas smaller.
An outdoor living space is all about how you want to live outside your home. A great custom space fits your needs and wants.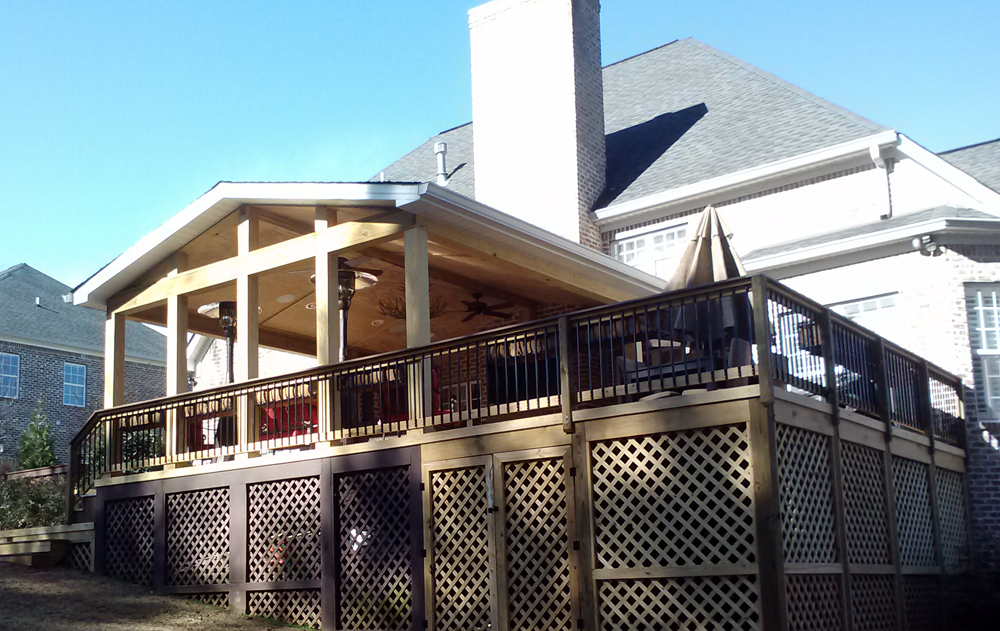 For the 2 deck areas, the family chose TimberTech Pacific Walnut decking. The low maintenance decking material was perfect for the deck areas. Low-maintenance decking stands up to sun's penetrating rays. It also stands up to staining and fading. Under the porch area did not require low-maintenance flooring so they used pressure-treated tongue-and-groove flooring.
Another important thing to think about when deciding on your perfect outdoor living space is future growth and additions. This family was eyeing the addition of a swimming pool in the future. As you can see, we used low wide steps leading from the left deck out to the yard. This makes for an easy transition to any future spaces they add to the rest of the backyard.
If you are considering creating a great new outdoor living space for your Macon/Warner Robins area back yard, or if you want to give a fresh new look to your existing backyard space, give us a call for a free consultation. We will help you identify the best structures and materials to create the perfect outdoor living space just for you.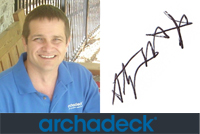 Call: (478) 745 – 2000
Email: centralgeorgia@archadeck.net
Visit our website for more great design ideas and inspiration